Sorghastrum nutans - Indian Grass
$19.99
"Sorghastrum nutans, or Indiangrass, is a perennial, warm-season bunchgrass that can grow to 5 to 7 feet high. Although growth begins in the spring, it makes most of its growth between June and August and remains green until the first frost. Yellow flower panicles extend above the foliage in the late summer and fall. Indiangrass is native to the Southeastern United States, tolerates rocky and clay soil, naturalizes, and has yellow-orange fall color. It was one of the dominant grasses of the tallgrass prairie which once covered large parts of the Midwest. The plant provides excellent cover year round for birds and mammals, seeds are eaten by songbirds and the plant is highly resistant to deer grazing. 
"The plant grows best in average, dry to medium, well-drained soils in full sun. It tolerates a wide range of soils including heavy clays and does well in poor, dry, infertile soils. However, it does not do well in full shade. Indiangrass tends to open up and/or flop in moist, rich soils. It may naturalize by self-seeding in optimum growing conditions, but you can cut it back to the ground in late winter to early spring just before the new growth appears.It is a hardy plant able to withstand drought, erosion, dry soil, shallow-rocky soil, and air pollution."  (North Carolina Extension)
---
Botany: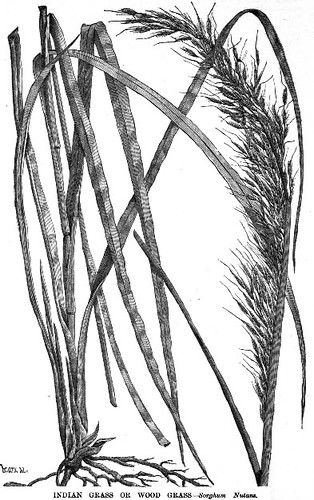 Botanical illustration (WA State Library)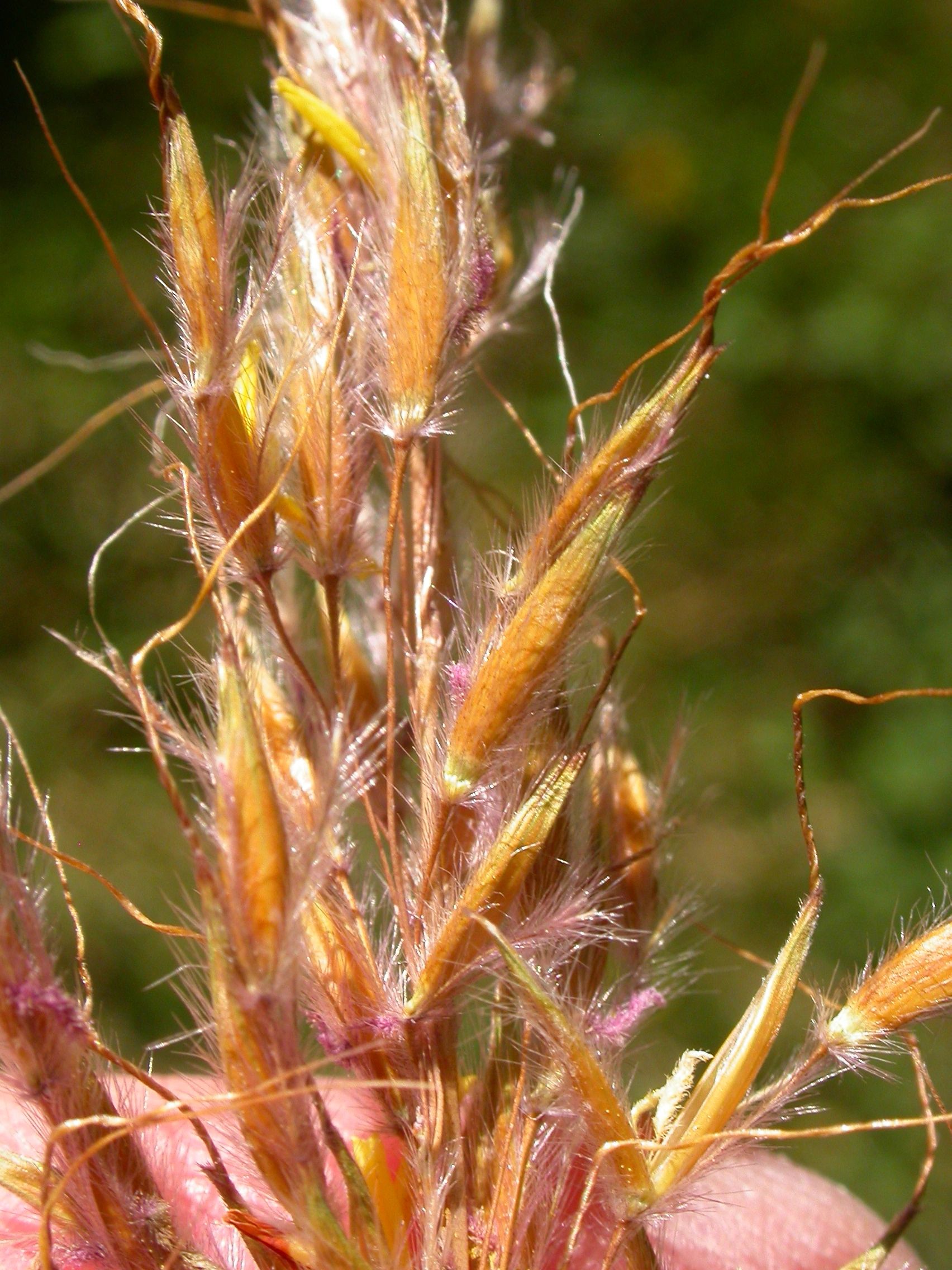 Indian grass seedhead. (Lavin)
---
Faunal associations:
Food source for 
grasshoppers
, which are then a food source for "
many insectivorous songbirds and upland game birds" (
Hilty). "
Because of its height and tendency to remain erect, it provides nesting habitat and protective cover for many kinds of birds, including the Ring-necked Pheasant, Greater Prairie Chicken, Northern Bobwhite, Mourning Dove, and Field Sparrow (see Walkup, 1991; Best, 1978)."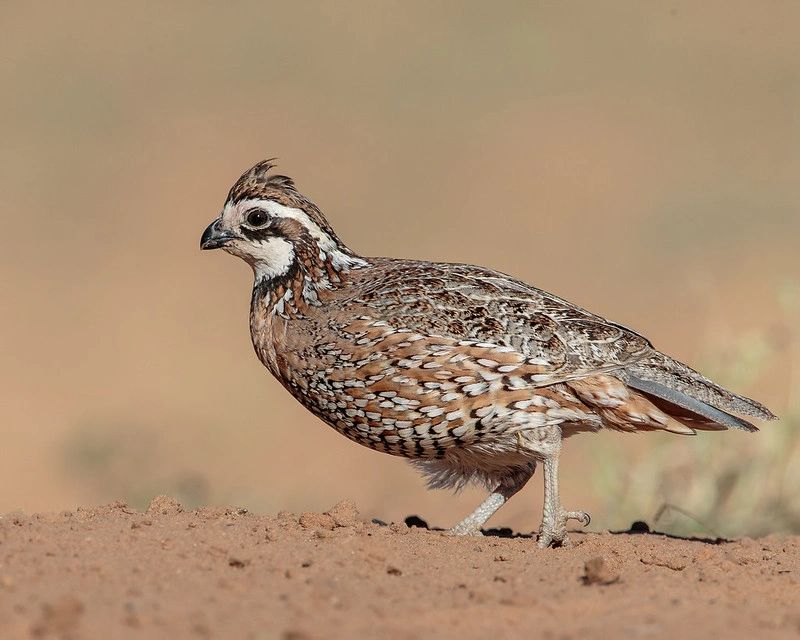 (1)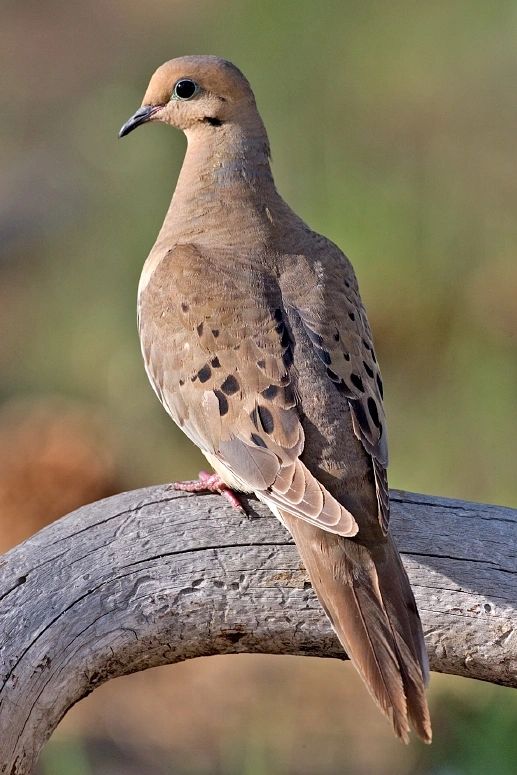 (2)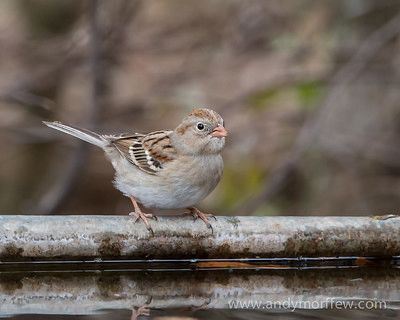 (3)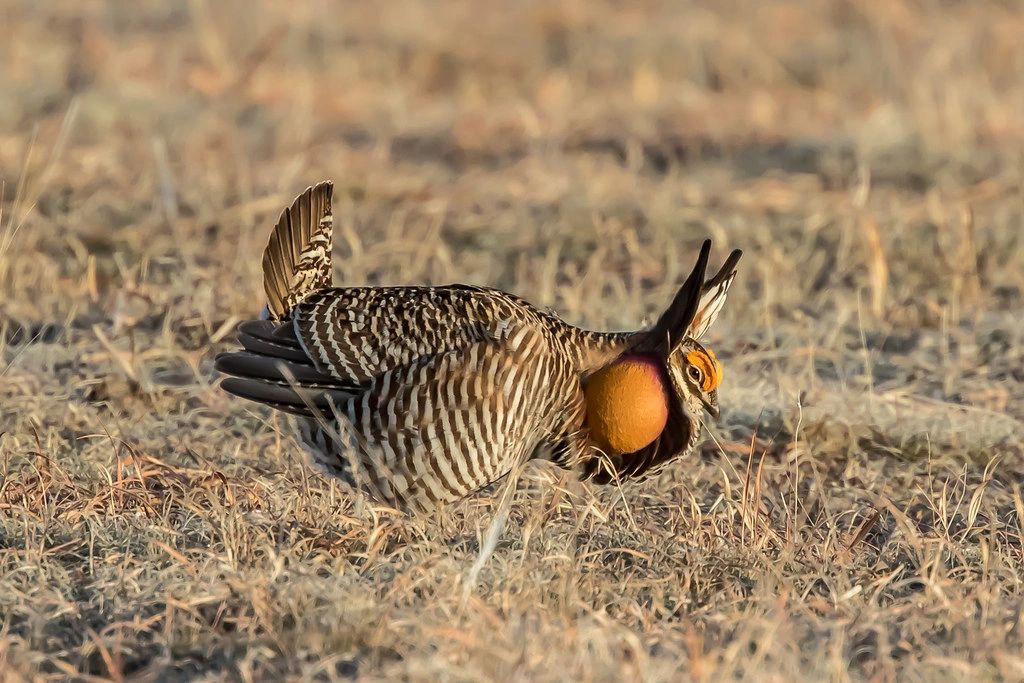 (4)
(1) Adult male Northern Bobwhite (BS Thurner Hof)
(2) Mourning dove (Joe Ferreira)
(3) Field Sparrow (Andy Morffew)
(4) Greater Prairie Chicken (Ron Knight)
---
Conservation: 
Indian Grass uses according to USDA:
Erosion control: Indiangrass can be used on critical area seeding, for roadside cover, and on areas subject to wind erosion.
Livestock: Indiangrass can be used singly or in mixtures for livestock forage on rangeland, pastureland, and hayland.
Wildlife: Indiangrass is excellent for wildlife habitat and food for deer. 

---
Type: Ornamental grass
Family: Poaceae
Native Range: Eastern and central United States
Zone: 4 to 9
Height: 3.00 to 5.00 feet
Spread: 1.00 to 2.00 feet
Bloom Time: September to February
Bloom Description: Light brown with yellow stamens
Sun: Full sun
Water: Dry to medium
Maintenance: Medium
Suggested Use: Naturalize
Flower: Good Dried
Leaf: Good Fall
Attracts: Birds
Other: Winter Interest
Tolerate: Drought, Erosion, Dry Soil, Shallow-Rocky Soil, Black Walnut, Air Pollution
---
Works Cited
Second cover: By Mason Brock (Masebrock) - Own work, Public Domain, https://commons.wikimedia.org/w/index.php?curid=32023583
Botany:
Faunal Associations:

Writings: 

---
Information and images compiled by Erik N. Vegeto

Disclaimer Notice:
Creative Commons will not be liable to You or any party on any legal theory for any damages whatsoever, including without limitation any general, special, incidental or consequential damages arising in connection to this license.