Solidago speciosa - Showy Goldenrod
$9.99
"Showy Goldenrod is a herbaceous perennial that grows to 3 feet. As the common name suggests, this is one of the most showy goldenrods. It has upright stems that host foot-long rods of golden yellow flowers in the early fall. Showy goldenrod tolerates drought and clay soil well and will naturalize in a landscape.  It provides great contrast to a garden in the late summer to early fall. Removing spent flower clusters encourages more bloom. Goldenrods have been wrongfully accused of causing hay fever, which is actually an allergic reaction to wind-borne pollen from other plants such as ragweed." (North Carolina Extension) 
---
Solidago Speciosa Botany By Dr. John Hilty
Aster family (Asteraceae)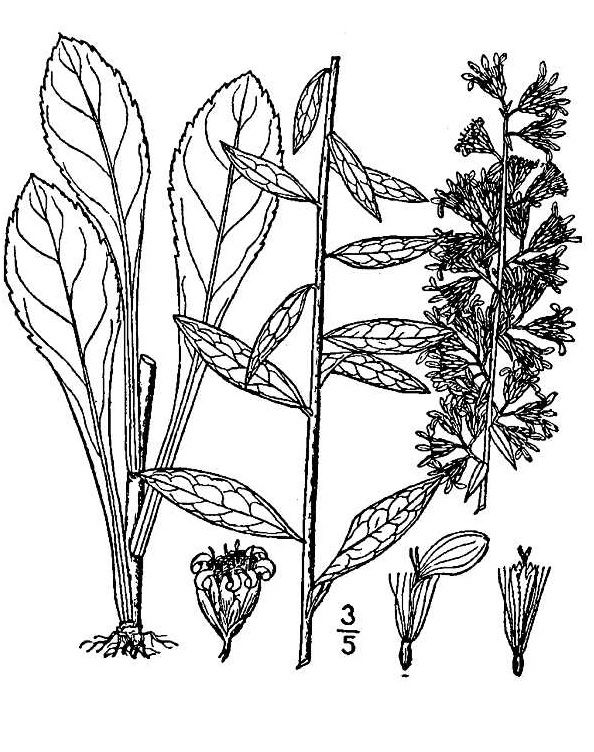 Cultivation: 
"The preference is full or partial sun, and slightly moist to slight dry conditions. The soil can contain significant amounts of loam, sand, or rocky material. Occasionally, the leaves succumb to powdery mildew and other kinds of foliar disease, particularly after the blooming period is over in the fall. This plant is easy to grow, but can topple over if it is spoiled by excessive moisture or fertilizer." (Hilty)
Faunal Associations: 
"The flowers attract honeybees, bumblebees, ants, beetles, and the occasional moth or butterfly. Among the beetles, are such visitors as Chauliognathus pennsylvanicus (Goldenrod Soldier Beetle) and Epicauta pensylvanica (Black Blister Beetle). These insects seek nectar primarily. The caterpillars of many moths feed on various parts of this goldenrod and others (see Moth Table). Other insect feeders include various leafhoppers, lace bugs, plant bugs, and beetles. To a limited extent, the seeds are eaten by the Eastern Goldfinch and the Greater Prairie Chicken. Mammalian herbivores occasionally eat the leaves, stems, and flowers, including deer, rabbits, groundhogs, and livestock. When this plant is infected by a fungus (Coleosporium sp.), it can cause sickness and death in cattle and horses. Like other goldenrods, it may contain a hemolytic agent that is mildly poisonous to some herbivores." (Hilty)

---
Covers:
"Showy Goldenrod (Solidago speciosa)" by wackybadger is licensed under CC BY-SA 2.0, <https://www.flickr.com/photos/8584048@N05/28886419544>
"Showy Goldenrod (Solidago speciosa)" by wackybadger is licensed under CC BY-SA 2.0
"Showy goldenrod, Solidago speciosa, native garden, new england" by sapienssolutions is licensed under CC BY-SA 2.0

North Carolina Extension plant description: Solidago Speciosa (Goldenrod, Showy Goldenrod) | North Carolina Extension Gardener Plant Toolbox. https://plants.ces.ncsu.edu/plants/solidago-speciosa/. Accessed 1 Feb. 2022.
John Hilty botany, cultivation, faunal associations: John Hilty, "Showy Goldenrod", Illinois Wildflowers, the publisher, Copyright 2004-2019. Accessed 29 January 2022
Botanical Illustration: Public Domain, https://commons.wikimedia.org/w/index.php?curid=358047
---
Information and images compiled by Erik N. Vegeto

Disclaimer Notice:
Creative Commons will not be liable to You or any party on any legal theory for any damages whatsoever, including without limitation any general, special, incidental or consequential damages arising in connection to this license.