Sisyrinchium angustifolium - Narrow-leaf Blue-eyed-grass
$39.99
"Sisyrinchium campestre is noted for its pale blue to white flowers and unbranched flowering stems. It occurs in open woods, glades, prairies and grassy areas.... It is a clump-forming perennial that features a tuft of narrow grass-like leaves (to 3/16" wide) typically growing to 6" (less frequently to 10") tall. Clusters of pale blue to white flowers (to 1/2" across), each with 6 pointed tepals and a yellow eye, appear in spring on stalks growing from leaf-like bract atop unbranched flowering stems which are distinctively flattened. Sisyrinchium angustifolium, also a Missouri native, features violet-blue flowers atop branched flowering stems.

"Specific epithet means of the fields.

"Though their foliage is grass-like, the blue-eyed grasses belong to the iris family not the grass family."  (Missouri Botanical Garden)
Cultivation:

"Best grown in medium moisture, well-drained soil in full sun. Tolerates light shade. Prefers consistently moist soils that do not dry out, but drainage must be good. Will freely self-seed in optimum growing conditions. Plantings may be sheared back after bloom to avoid any unwanted self-seeding and/or to tidy foliage for remaining part of the growing season. Plants may need to be divided every 2-3 years to keep plantings vigorous."  (Missouri Botanical Garden)
---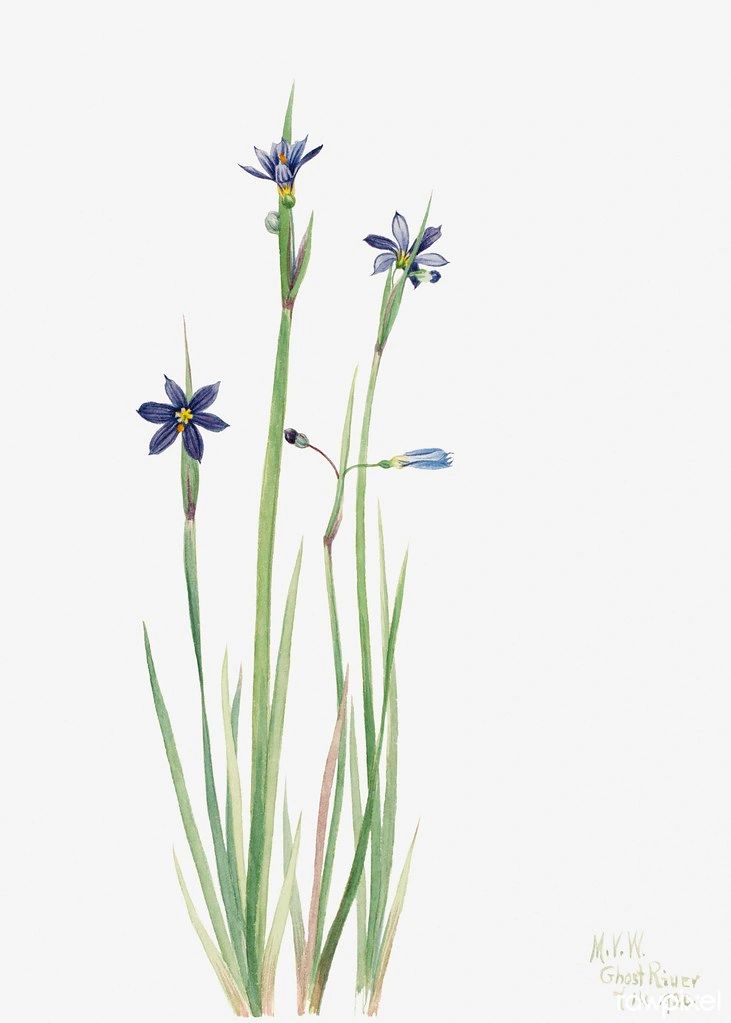 ---
Cover
"Sisyrinchium angustifolium" by The Marmot is licensed under CC BY-SA 2.0
By Dcrjsr - Own work, CC BY 3.0, https://commons.wikimedia.org/w/index.php?curid=19179638
Missouri Botanical Garden description, cultivation:  Sisyrinchium Campestre - Plant Finder. https://www.missouribotanicalgarden.org/PlantFinder/PlantFinderDetails.aspx?kempercode=u670. Accessed 16 Feb. 2022.
Botanical illustration: "Blue-eyed-grass (Sisyrinchium angustifolium) (1920) by Mary Vaux Walcott. Original from The Smithsonian. Digitally enhanced by rawpixel." by Free Public Domain Illustrations by rawpixel is licensed under CC BY 2.0
---
Information and images compiled by Erik N. Vegeto

Disclaimer Notice:
Creative Commons will not be liable to You or any party on any legal theory for any damages whatsoever, including without limitation any general, special, incidental or consequential damages arising in connection to this license.