Panicum amarum - Bitter Panic Grass
$9.99
---
Description:
"Grass Family (Poaceae). Bitter panicum is a native, perennial, rhizomatous, warm-season grass growing to a height of 4-8 feet with a growth habit ranging from erect to prostrate to decumbent. The leaves are 1/4 to 1/2 inch wide, 7 to 20 inches long, smooth without hair, and bluish in color. A robust grass, it spreads slowly from short, strong rhizomes or by rooting from lower nodes of plant stems (culms) to form open clumps." (USDA)

---
Botany:
"The inflorescence is a narrow panicle 12 to 15 inches in length that is contracted in maturity. Flowering begins in September and continues through December. Bitter panicum is a hexaploid (2n=54), consequently, seeds are consistently sterile. Small quantities of poor quality seed are produced on compact clusters 6 to 12 inches long and 2 to 4 inches wide. Reproduction is vegetative by lateral tillering from established plants. Plants can spread from an aggressive, scattered system of rhizomes, but the stands are rather open." (USDA)
---
Faunal Associations: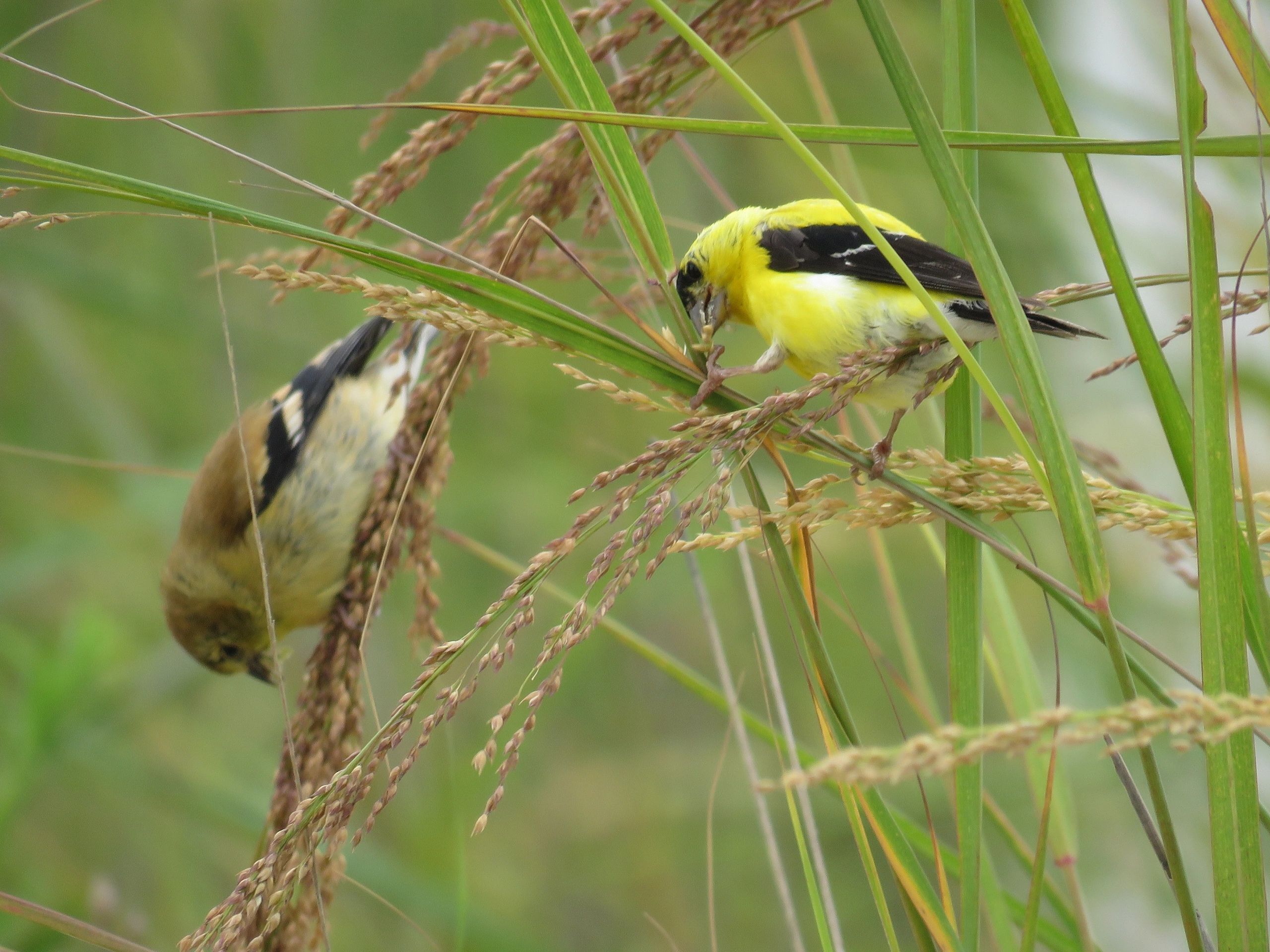 Male and female American goldfinches spotted on Bitter Panic Grasses. (BeckyLaboy)
---
Restoration Uses:
"The principal use for bitter panicum is in coastal dune erosion control, however it may have a role in stabilizing other dry, sterile areas such as roadsides and minespoils. Bitter panicum is recommended for beach dune enhancement and stabilization on coastal beaches and barrier islands. It is an ideal dune plant. The above ground portion of the plant reduces wind velocity allowing sand to drop out of the wind stream and accumulate. The below ground portion of the plant stabilizes and holds the sand in place with an extensive fibrous root and rhizome system. Livestock and forage: Bitter panicum is consumed by cattle, sheep, and goats. This grass has a lowmedium browse and grazing palatability and a medium protein potential. It is a favorite forage of livestock in some areas and was eliminated along some portions of the Texas barrier islands by grazing. When livestock are removed, this grass reestablishes rapidly." (USDA)
---
Native Habitat:
"Habitat: Bitter panicum grows on coastal dunes, in interdunal swales, overwash sands, wet sandy soils, low fertility soils, and the margins of swamps. On coastal dunes, it is most likely found in the lower foredune slopes of the frontal zone, which is closest to the ocean and supports mainly grasses and other herbaceous plants tolerant of exposure to salt spray. It also occurs on dune crests, as well as in the backshore area near dunes and on both the leeward and the windward slopes of dunes or dune ridges. It favors exposed areas where windblown sand accumulates" (USDA)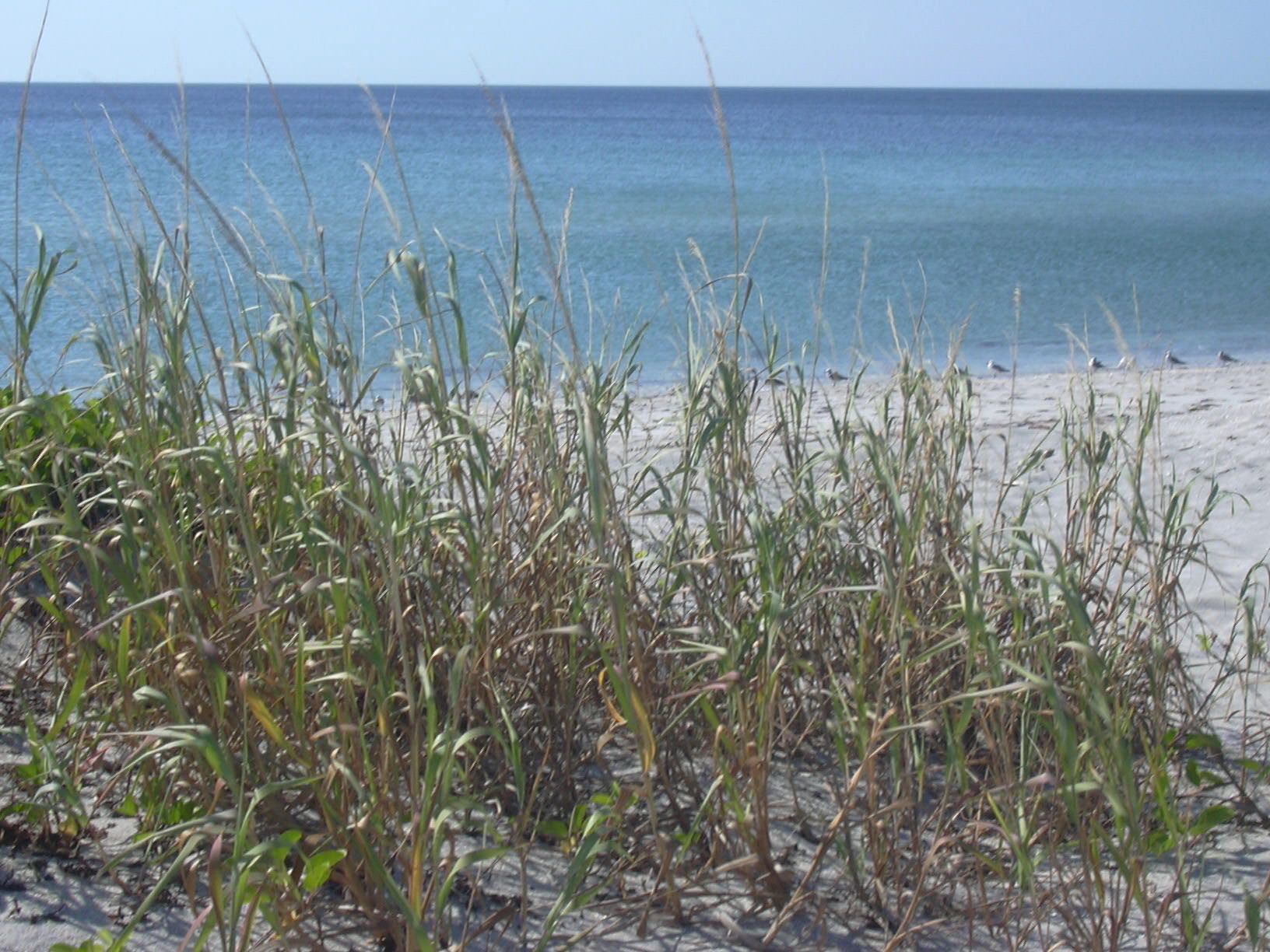 ---
Ethnobotany:
"A warm infusion of Panicum sp. (panicgrass) leaves was taken by the Creek Indians for fevers, especially those caused by malaria. It was also used for 'rabbit sickness', muscular cramps, cough, dry throat, noisy chest and as a bath for 'gopher-tortoise sickness' by the Mikasuki Seminole. Stems were used for padding the inside of Cherokee moccasins." (USDA)

Type: Ornamental grass
Family: Poaceae
Zone: 6 to 7
Height: 3.00 to 4.00 feet
Spread: 2.00 to 3.00 feet
Bloom Time: September to February
Bloom Description: Blue tinged
Sun: Full sun to part shade
Water: Dry to medium
Maintenance: Low
Suggested Use: Naturalize, Rain Garden
Flower: Showy
Leaf: Colorful
Other: Winter Interest
Tolerate: Drought, Erosion, Dry Soil, Black Walnut, Air Pollution
---
---
Information and images compiled by Erik N. Vegeto

Disclaimer Notice:
Creative Commons will not be liable to You or any party on any legal theory for any damages whatsoever, including without limitation any general, special, incidental or consequential damages arising in connection to this license.