Nyssa sylvatica
$29.99
---
"Blackgum or Black Tupelo is a native deciduous tree that... can reach 50 to 80 feet tall, but typically reaches 20 to 30 feet in cultivation. Trunk diameter is typically 1 to 2 feet,  but can reach 4 to 5 feet in taller specimens.  It tolerates many soil types and moisture conditions, but is slow-growing, reaching about 12 to 15 feet in about ten years, growing faster with a good watering and fertilizer schedule. It is found in dry upland forests (occasionally bottomlands), savannas, swamp margins, and upland depressions that are occasionally flooded. It can also be found in the hills and mountains on dry slopes with oaks and hickories. The Blackgum is grown as an ornamental for its beautiful, scarlet red, fall color and for its shiny, dark green leaves in the summer.  
"It has a flowering habit that is polygamodioecious, meaning that some plants have mostly male flowers while others have mostly female flowers, with most plants having a few perfect flowers. This would account for some plants being loaded with egg-shaped blue-black berries, while others may only have a few berries. The tree does well in average, medium to wet soils in full sun to part shade. It prefers moist, acidic soils, but is adaptive and tolerates poorly-drained soils and standing water, some drought and some dry soils, at least in the wild. Female trees need a male pollinator to set fruit. The nectar from the flowers is sought after by bees and Tupelo honey is highly prized.
"This tree is an excellent choice to support wildlife in the landscape. However, it should be sited in a permanent location because its long taproot makes it difficult to transplant later. It is tolerant of drought, heat, dry and wet soils, and is moderately salt tolerant.  It withstands wind, ice, and salt spray in coastal locations." (North Carolina Extension)
---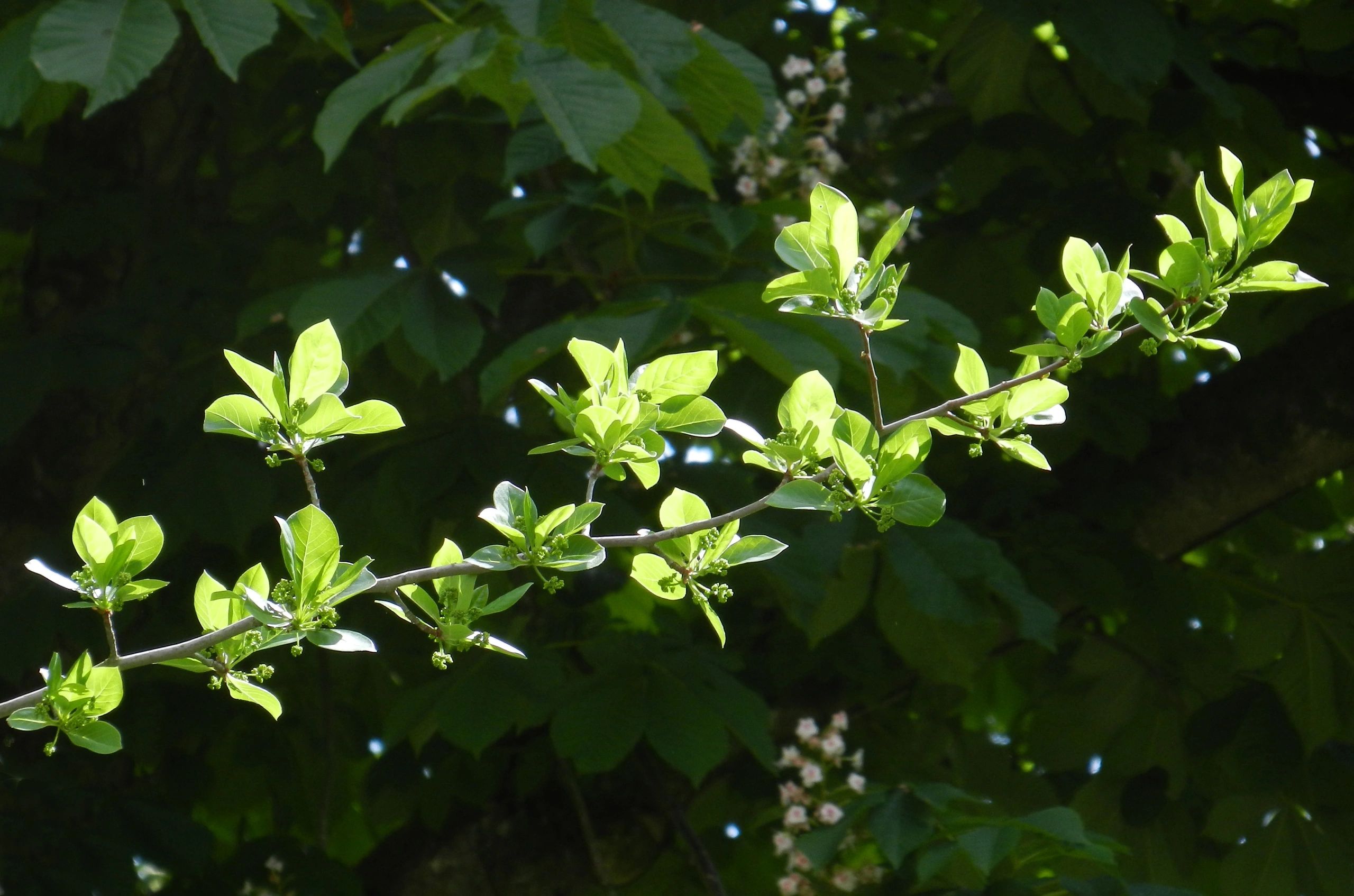 Spring new growth 
---
Covers
Spring new growth image: "File:Baden-Baden-Nyssa sylvatica-66-Tupelobaum-bei Rive Gauche-Zweig-2012-gje.jpg" by Gerd Eichmann is licensed under CC BY-SA 4.0
Common Name: black gum
Type: Tree
Family: Nyssaceae
Native Range: Eastern North America
Zone: 3 to 9
Height: 30.00 to 50.00 feet
Spread: 20.00 to 30.00 feet
Bloom Time: May to June
Bloom Description: Greenish white
Sun: Full sun to part shade
Water: Medium to wet
Maintenance: Low
Suggested Use: Shade Tree, Street Tree, Rain Garden
Flower: Insignificant
Leaf: Good Fall
Attracts: Birds
Tolerate: Clay Soil, Wet Soil
---
Information and images compiled by Erik N. Vegeto

Disclaimer Notice:
Creative Commons will not be liable to You or any party on any legal theory for any damages whatsoever, including without limitation any general, special, incidental or consequential damages arising in connection to this license.