Juniperus virginiana
$29.99
"Eastern Redcedar is an evergreen tree that may grow 30 to 40 feet tall. The tree has scale-like, closely oppressed, glandular leaves. The bark is red-brown in color, exfoliating in long, fibrous strips, often ashy gray where exposed. Small, light blue-green clusters of flowers mature in late winter or early spring. The tree produces a nearly spherical blue fruit that matures in the fall on female trees.
"The heartwood is light brown and aromatic, contrasted by the white sapwood, and is commonly used for cedar chests.  The wood is also often used to make fence posts and rails as it is naturally rot-resistant.  It also repels insects, lending to its appeal for use in clothing storage and pet bedding.
"Eastern Redcedar is easily grown in average, dry to moist, well-drained soils in full sun.  It will tolerate a wide range of soils and growing conditions, from swamps to dry rocky glades.  It can even grow on seemingly barren soils that few other plants can tolerate.  It prefers moist soils but is intolerant of constantly wet soils.  It only tolerates the shade when it is extremely young. It has the best drought resistance of any conifer native to the eastern U.S.
"This tree is an easy to transplant, tough, dependable tree, but considered weedy by many gardeners.  It is highly salt tolerant.  This colorful tree needs airy space to grow.  It makes an excellent specimen and does well in a grouping or as a screen." (North Carolina Extension)
---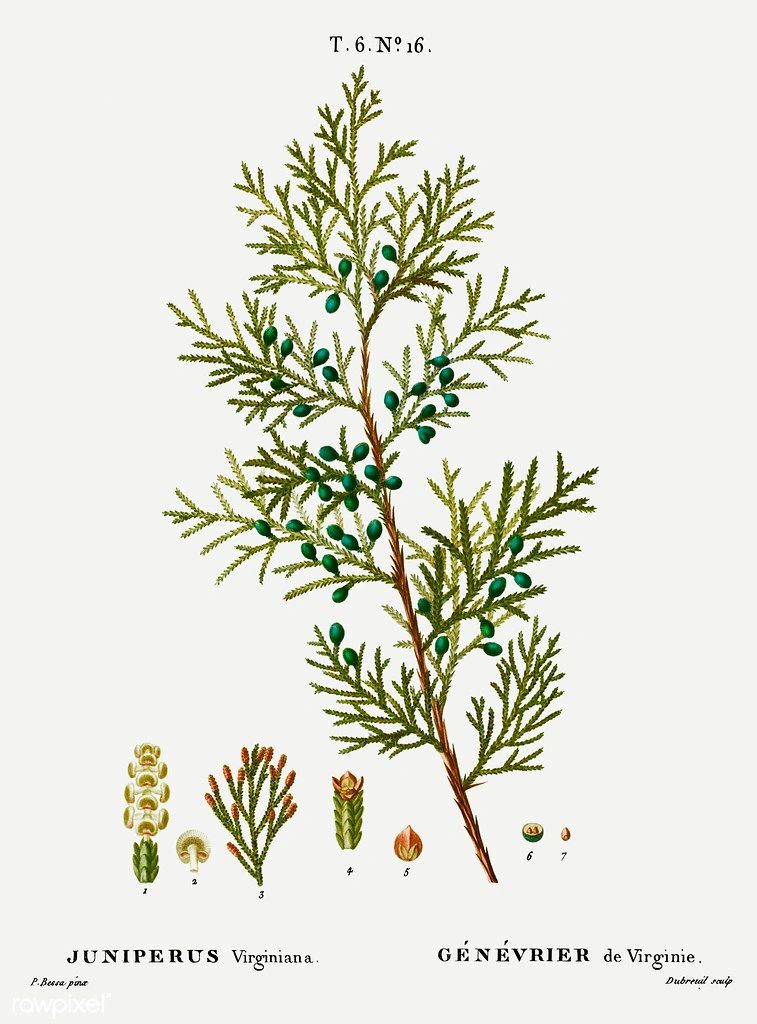 ---
Covers
"Juniperus virginiana" by Nicholas A. Tonelli is licensed under CC BY 2.0
Juniperus virginiana by plantsforpermaculture is licensed under CC BY 2.0


North Carolina Extension plant description:     Juniperus Virginiana (Eastern Redcedar, Eastern Red Cedar) | North Carolina Extension Gardener Plant Toolbox. https://plants.ces.ncsu.edu/plants/juniperus-virginiana/. Accessed 10 Feb. 2022.

Botanical Illustration: "Virginian juniper (Juniperus virginiana) illustration from Trait" by Free Public Domain Illustrations by rawpixel is licensed under CC BY 2.0
Common Name: red cedar
Type: Needled evergreen
Family: Cupressaceae
Native Range: Eastern North America
Zone: 2 to 9
Height: 30.00 to 65.00 feet
Spread: 8.00 to 25.00 feet
Bloom Time: Non-flowering
Bloom Description: Non-flowering
Sun: Full sun
Water: Dry to medium
Maintenance: Low
Leaf: Evergreen
Other: Winter Interest
Tolerate: Deer, Drought, Erosion, Dry Soil, Shallow-Rocky Soil, Black Walnut, Air Pollution
---
Information and images compiled by Erik N. Vegeto

Disclaimer Notice:
Creative Commons will not be liable to You or any party on any legal theory for any damages whatsoever, including without limitation any general, special, incidental or consequential damages arising in connection to this license.