Ilex glabra 'Shamrock' - Shamrock Inkberry
$9.99
"Ilex glabra, commonly called inkberry or gallberry, is a slow-growing, upright-rounded, stoloniferous, broadleaf evergreen shrub in the holly family. It typically matures to 5-8' tall, and can spread by root suckers to form colonies. It is native to the coastal plain from Nova Scotia to Florida to Louisiana where it is most commonly found in sandy woods and peripheries of swamps and bogs. Spineless, flat, ovate to elliptic, glossy, dark green leaves (to 1.5" long) have smooth margins with several marginal teeth near the apex. Leaves usually remain attractive in winter unless temperatures dip well below zero. Greenish white flowers (male in cymes and female in cymes or single) appear in spring, but are relatively inconspicuous. If pollinated, female flowers give way to pea-sized, jet black, berry-like drupes (inkberries to 3/8" diameter) which mature in early fall and persist throughout winter to early spring unless consumed by local bird populations. Gallberry honey is a highly-rated honey that results from bees feeding on inkberry flowers. This honey is locally produced in certain parts of the Southeastern U.S. in areas where beekeepers release bees from late April to early June to coincide with inkberry flowering time. Dried and roasted inkberry leaves were first used by Native Americans to brew a black tea-like drink, hence the sometimes used common name of Appalachian tea for this shrub." (Missouri Botanical Garden)
---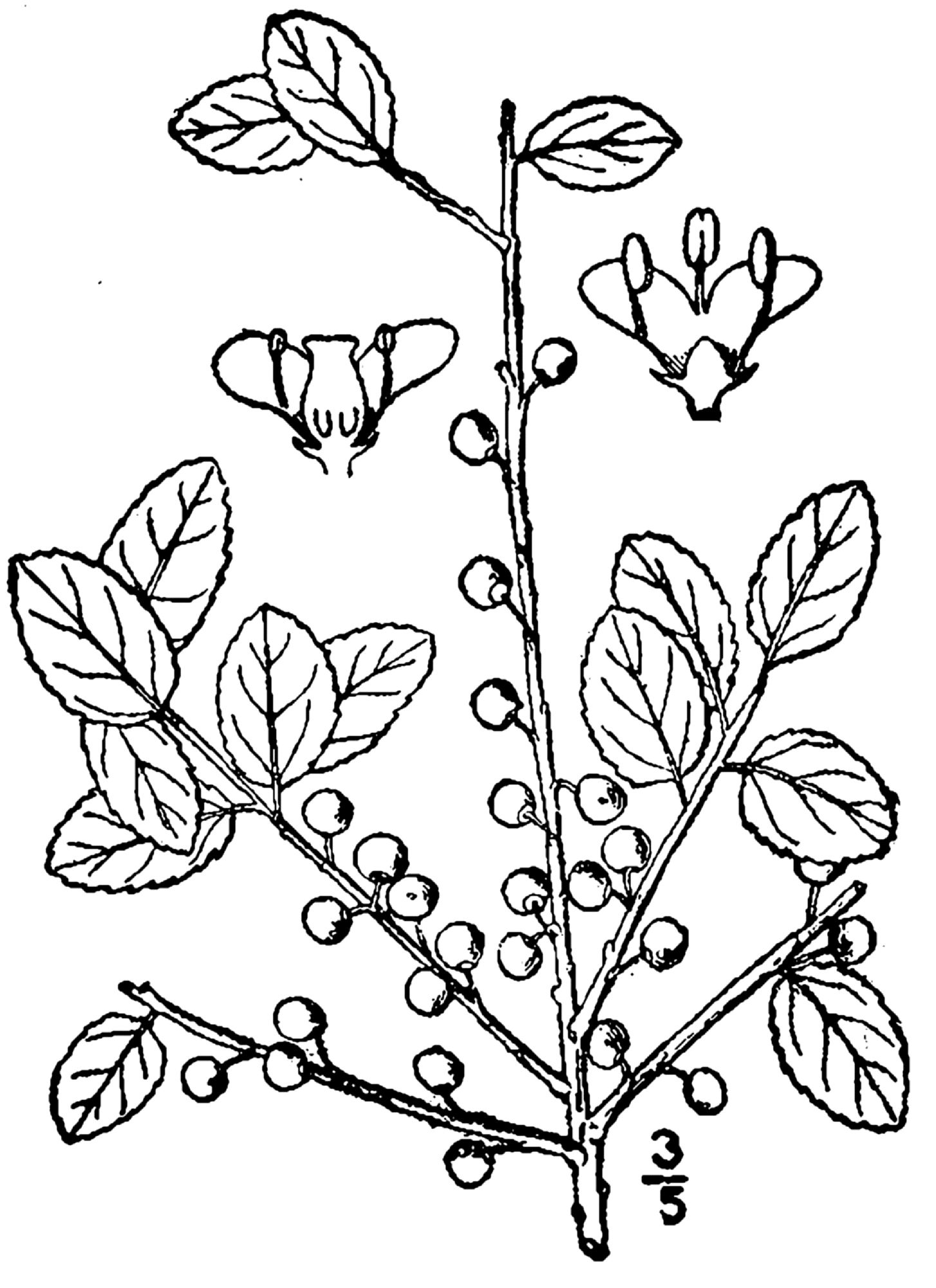 Cultivation:
"Easily grown in average, medium to wet soils in full sun to part shade. Adaptable to both light and heavy soils. Tolerates wet soils. Prefers rich, consistently moist, acidic soils in full sun. Good shade tolerance, however. Avoid neutral to alkaline soils. Inkberries are dioecious (separate male and female plants). Female plants need a male pollinator in order to produce the berry-like drupes that are characteristic of the species and cultivars. Prune to shape in early spring just before new growth begins. Plants generally need minimal pruning unless used as a hedge (perhaps best grown as an informal hedge). Remove root suckers regularly if colonial spread is not desired." (Missouri Botanical Garden)
---
Covers
"Ilex glabra 'Shamrock' (L.) Gray, Gallberry, Inberry, Inkberry, Shamrock" by David J. Stang - source: David Stang. First published at ZipcodeZoo.com, CC BY-SA 4.0, https://commons.wikimedia.org/w/index.php?curid=60779501

Missouri Botanical Garden plant description, cultivation: Ilex Glabra - Plant Finder. https://www.missouribotanicalgarden.org/PlantFinder/PlantFinderDetails.aspx?kempercode=d553. Accessed 3 Feb. 2022.
---
Information and images compiled by Erik N. Vegeto

Disclaimer Notice:
Creative Commons will not be liable to You or any party on any legal theory for any damages whatsoever, including without limitation any general, special, incidental or consequential damages arising in connection to this license.