Heliopsis helianthoides - Ox Eye Sunflower
$9.99
"Heliopsis helianthoides is similar to Helianthus, the true sunflower. It is an easy to grow plant that flourishes in moist to dry, open woodlands, prairies, and fields. It tolerates a wide range of soil conditions, including poor soil but does best in moist, well-drained soil in full sun. 
"Ox-Eye is a herbaceous perennial that may grow 3 to 5 feet tall. The leaves are opposite with a toothed margin and a sandpapery texture. Yellow flowers with a golden center mature from mid-summer into the fall." (North Carolina Extension)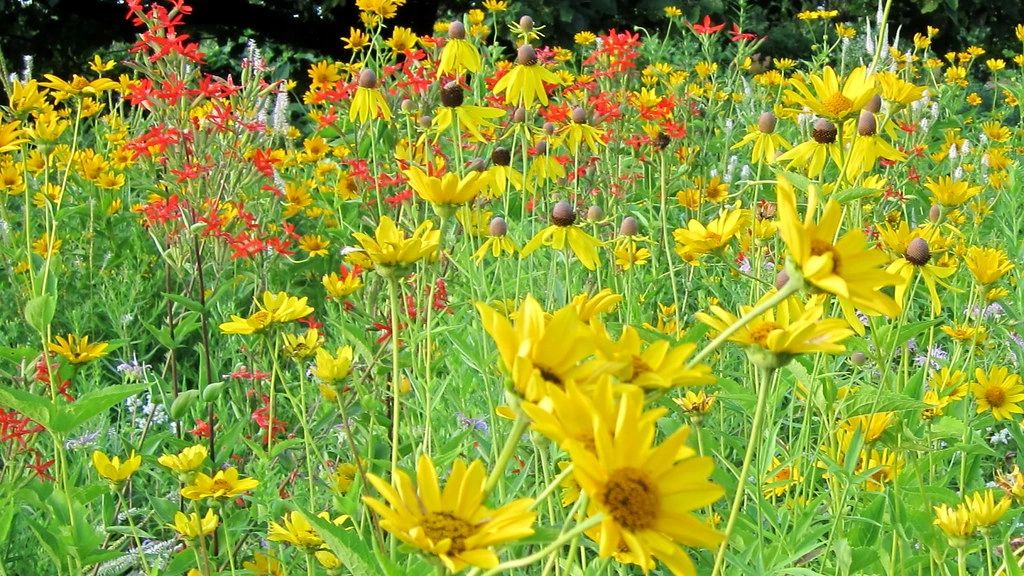 Ox-eye Sunflower in a botanical garden
---
Covers 
Flowers and foliage by Fritz Flohr Reynolds is licensed under CC-BY-SA 2.0
North Carolina Extension description:   Heliopsis Helianthoides (Early Sunflower, Eastern Ox-Eye, Eastern Sunflower-Everlasting, False Sunflower, Heliopsis, Ox-Eye, Oxeye Sunflower, Smooth Oxeye) | North Carolina Extension Gardener Plant Toolbox. https://plants.ces.ncsu.edu/plants/heliopsis-helianthoides/. Accessed 16 Feb. 2022.
"Ox-eye Sunflower in a botanical garden": "160722 162 Chi Bot Gdn Native Gdn - Heliopsis helianthoides, Silene regia Royal Catchfly, Veronicastrum virgatum, Ratabida pinnata" by cultivar413 is licensed under CC BY 2.0
Type: Herbaceous perennial
Family: Asteraceae
Native Range: Central and eastern North America
Zone: 3 to 9
Height: 3.00 to 6.00 feet
Spread: 2.00 to 4.00 feet
Bloom Time: June to August
Bloom Description: Orange-yellow rays with brown center disks
Sun: Full sun
Water: Dry to medium
Maintenance: Low
Flower: Showy, Good Cut
Attracts: Butterflies
Tolerate: Drought, Erosion, Clay Soil, Dry Soil, Shallow-Rocky Soil
---
Information and images compiled by Erik N. Vegeto

Disclaimer Notice:
Creative Commons will not be liable to You or any party on any legal theory for any damages whatsoever, including without limitation any general, special, incidental or consequential damages arising in connection to this license.