Eupatorium purpureum - Purple Joe Pye Weed
$9.99
"Eutrochium purpureum, commonly called Joe Pye weed, is a tall Missouri native perennial that occurs in low moist ground, wooded slopes, wet meadows and thickets and stream margins throughout the State (Steyermark). It is an erect, clump-forming perennial which typically grows 4-7' tall and features coarsely-serrated, lance-shaped, dark green leaves (to 12" long) in whorls of 3-4 on sturdy green stems with purplish leaf nodes. Tiny, vanilla-scented, dull pinkish-purple flowers in large, terminal, domed, compound inflorescences bloom in mid-summer to early fall. Each flower cluster typically has 5-7 florets. Flowers are very attractive to butterflies. Flowers give way to attractive seed heads which persist well into winter." (Missouri Botanical Garden)
Cultivation:
"Easily grown in average, medium moisture soils in full sun to part shade. Prefers moist, fertile, humusy soils which do not dry out. Tolerant of clay soils. Cut plants to the ground in late winter. Best propagated by stem cuttings. This species generally grows better in open woodland areas than E. maculatum which generally likes moister soils." (Missouri Botanical Garden)

---
Eupatorium Purpureum Botany by Dr. John Hilty
Aster family (Asteraceae)
Cultivation:
 The preference is light shade to partial sun, moist to mesic conditions, and a rich loamy soil. The leaves will turn an unattractive yellowish green in the presence of strong sunlight.
Faunal Associations: 
The flower nectar attracts primarily long-tongued bees, butterflies, skippers, and moths. Bee visitors include Bombus spp. (bumblebees), Melissodes spp. (miner bees), and Megachile spp. (leaf-cutting bees). Some bees also collect pollen. The caterpillars of various moths feed on leaves and other parts of Eutrochium spp. (Joe-Pye Weed species), including Carmenta bassiformis (Eupatorium Borer Moth), Emmelina monodactyla (Common Plume Moth), Perigea xanthioides (Red Groundling), Schinia trifasciata (Three-Lined Flower Moth), Phragmatobia fuliginosa (Ruby Tiger Moth), and Eupithecia miserulata (Common Pug).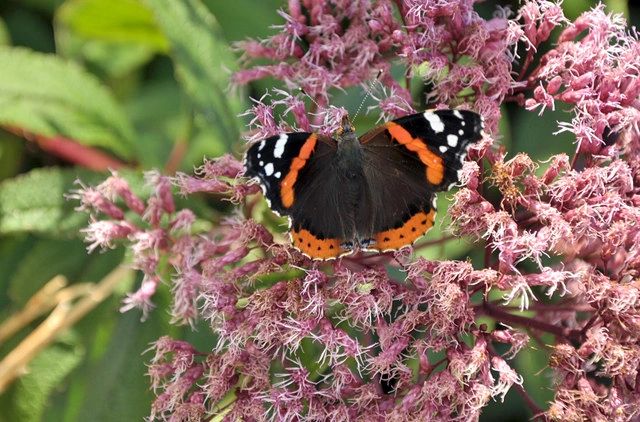 Red Admiral (Vanessa atalanta) feeding on Purple Joe Pye Weed.
---
Covers
"eupatorium purpureum o eupatorio" by M. Martin Vicente is licensed under CC BY 2.0
"eupatorium purpureum o eupatorio" by M. Martin Vicente is licensed under CC BY 2.0
"File:Der Wasserdost, lat. Eupatorium (Eupatorium Purpureum) 03.jpg" by Plenuska is licensed under CC BY 2.0



John Hilty botany, cultivation, and faunal associations: John Hilty, "
Sweet Joe Pye Weed
", Illinois Wildflowers, the publisher, Copyright 2004-2019. Accessed 29 January 2022
Type: Herbaceous perennial
Family: Asteraceae
Native Range: Eastern and central North America
Zone: 4 to 9
Height: 5.00 to 7.00 feet
Spread: 2.00 to 4.00 feet
Bloom Time: July to September
Bloom Description: Mauve pink
Sun: Full sun to part shade
Water: Medium
Maintenance: Low
Suggested Use: Water Plant, Naturalize, Rain Garden
Flower: Showy, Fragrant
Attracts: Butterflies
Tolerate: Deer, Clay Soil, Wet Soil
---
Information and images compiled by Erik N.Vegeto

Disclaimer Notice:
Creative Commons will not be liable to You or any party on any legal theory for any damages whatsoever, including without limitation any general, special, incidental or consequential damages arising in connection to this license.