Cercis canadensis
$29.99
"Eastern Redbud is a deciduous, ornamental tree in the Fabaceae or pea family. It is native to eastern North America and may grow up to 20 or 30 feet tall. The genus name Cercis comes from the Greek word kerkis, which means weaver's shuttle, referring to the fact that the seed pod resembles the size and shape of a weaver's shuttle used to move thread back and forth on a loom. Sometimes called the Judas tree, from its oriental relative of that name, it is a smaller tree with a nearly flat or rounded crown that is often found growing beneath taller trees.
"The tree is pH adaptable and can tolerate full sun or part shade and moderately fertile clay or sandy soil. It does not tolerate heat or drought that can stress the tree, or wet soils. It does not tolerate root disturbance, so plants should be placed in their permanent positions as soon as possible and should be kept well-watered until established. Because its branches tend to break, the tree should be sited in a relatively protected area. Regular watering, fertilization, and pruning out dead branches as needed will keep the tree vigorous.
"Eastern redbud is a flowering tree that blooms before the leaves appear. In early spring, clusters of rose pink to light purple flowers mature and attract many pollinators including butterflies, and bees.  The plant holds great wildlife value as a larval host plant and the bean pod fruits provide food for songbirds.  
"Plant this tree as a specimen in a pollinator garden, as an understory tree in a wooded landscape, in small groups, or mass planted for a dramatic springtime effect." (North Carolina Extension)
---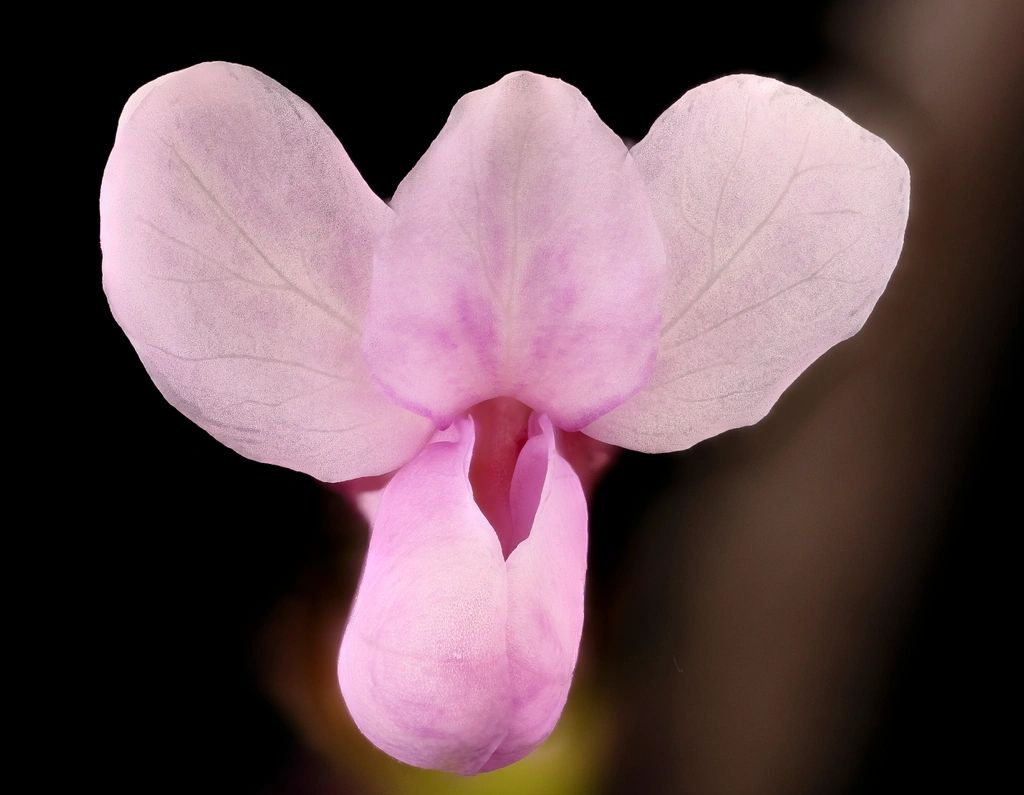 Flower close up (Metzman)

---
Covers
"tree form with pink blooms" by Dcrjsr is licensed under CC BY 3.0
"eastern redbud, Cercis canadensis, Fabaceae" by Ryan Somma is licensed under CC PDM 1.0
"Details of Buds" By Greg Hume - Own work, CC BY-SA 3.0


North Carolina Extension plant description: Cercis Canadensis (American Judas Tree, American Redbud, Eastern Redbud, Judas Tree, Mexican Redbud, Redbud, Texas Redbud) | North Carolina Extension Gardener Plant Toolbox. https://plants.ces.ncsu.edu/plants/cercis-canadensis/. Accessed 10 Feb. 2022.
"Flower close up" by USGS Bee Inventory and Monitoring Lab (specifically, Helen Lowe Metzman) is licensed under Public Domain Mark 1.0
Common Name: eastern redbud
Type: Tree
Family: Fabaceae
Native Range: North and Central America
Zone: 4 to 8
Height: 20.00 to 30.00 feet
Spread: 25.00 to 35.00 feet
Bloom Time: April
Bloom Description: Pink
Sun: Full sun to part shade
Water: Medium
Maintenance: Low
Suggested Use: Street Tree, Flowering Tree, Naturalize
Flower: Showy
Leaf: Good Fall
Attracts: Butterflies
Tolerate: Deer, Clay Soil, Black Walnut
---
Information and images compiled by Erik N.Vegeto

Disclaimer Notice:
Creative Commons will not be liable to You or any party on any legal theory for any damages whatsoever, including without limitation any general, special, incidental or consequential damages arising in connection to this license.