Carex stricta - Tussock Sedge
$9.99
"A slender, 1-3 ft. grass-like plant with a cluster of brown seed capsules clinging high on the stem. Stems bearing greenish or brownish spikes of inconspicuous flowers above dense tufts of grass-like leaves. Green leaves are exceeded by the stem in height. Forms large tufts or hummocks to 3 ft. wide.
"The easiest way to recognize this sedge is by its distinctive, elevated tussocks (dense tufts) in open wet areas. It grows abundantly, often in seasonally flooded sites." (Native Plants of North America)
---
Carex Stricta Botany by Dr. John Hilty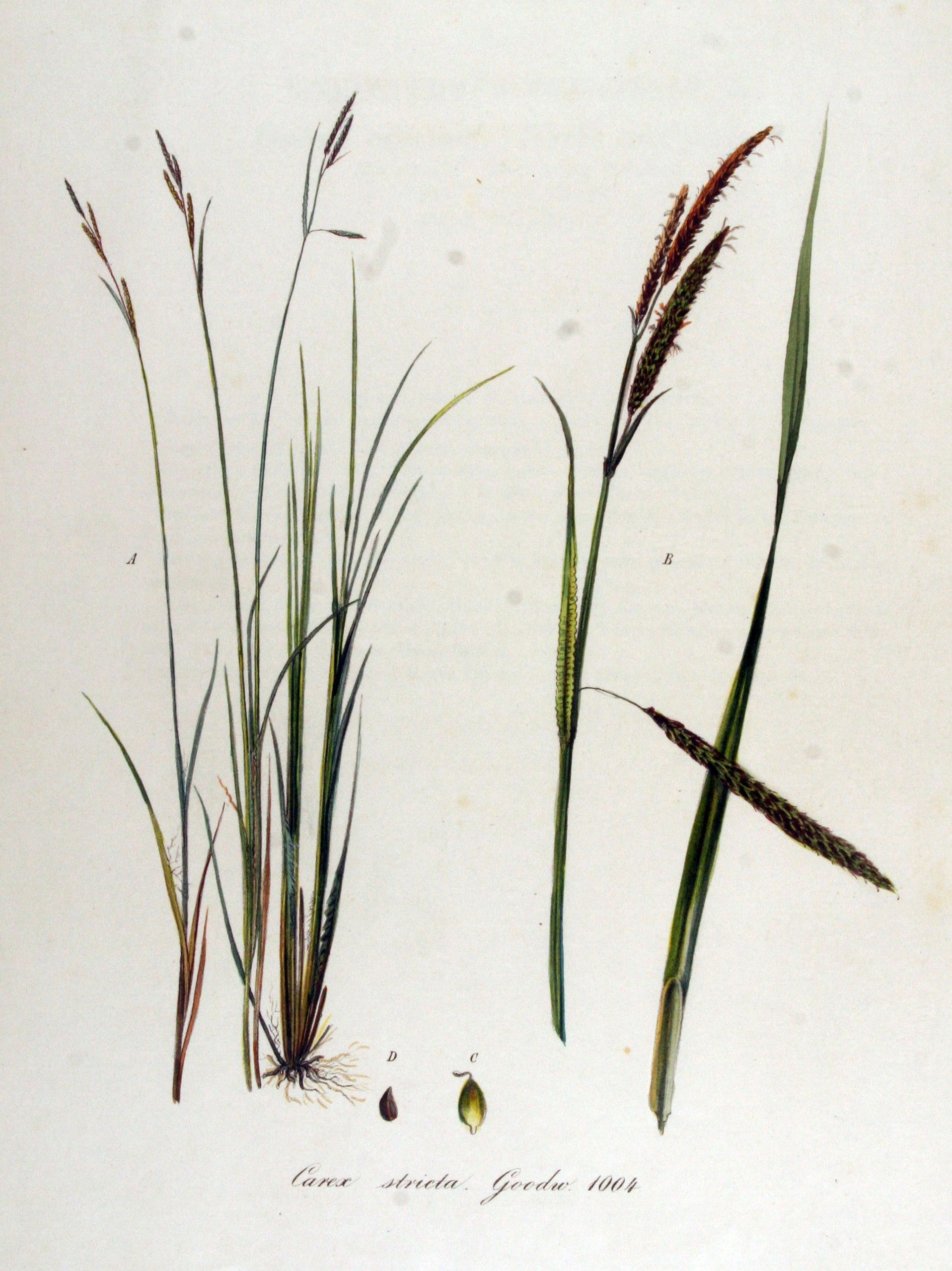 Cultivation: 
"The preference is full sun, wet to moist conditions, and soil that is sandy or mucky. This sedge adapts readily to shallow seasonal flooding, forming tussocks above the water-line. This increases the supply of oxygen to the roots. In some situations, this sedge can spread aggressively." (Hilty)
Faunal Associations: 
"The following leaf beetles have been observed to feed on Tussock Sedge: Donacia bimpressa, Plateumaris frosti, Plateumaris metallica, Plateumaris nitida, Plateumaris pusilla, and Stenispa metallica. The caterpillars of several skippers feed on this and other sedges (Carex spp.): Euphyes conspicuus (Black Dash), Euphyes dion (Dion Skipper), Euphyes vestris (Dun Skipper), Poanes massoit (Mulberry Wing), and Poanes viator (Broad-Winged Skipper). Other insect feeders include Sphenophorus costicollis (Sedge Billbug), the seed bugs Cymus angustatus and Oedancala dorsalis, the plant bugs Mimoceps insignis and Teratocoris discolor, stem-boring larvae of the flies Cordilura varipes and Loxocera cylindrica (Rust Fly), caterpillars of the butterflies Satyrodes appalachia (Appalachian Brown) and Satyrodes eurydice (Eyed Brown), caterpillars of the moths Macrochilo absorptalis (Slant-Lined Owlet) and Chortodes inquinata (Tufted Sedge Moth), several species of leafhoppers (primarily Cosmotettix spp.), and sedge grasshoppers (Stethophyma spp.). The seeds and spikelets of wetland sedges are an important source of food to many ducks, rails, and other wetland birds (see Bird Table). To a limited extent, Muskrats feed on the roots, sprouts, and culms of these plants. There are also records of such turtles as Chelydra serpentina (Snapping Turtle) and Kinosternum subrubrum (Eastern Mud Turtle) feeding on the spikelets and possibly other parts of sedges. Because Tussock Sedge often forms dense colonies of tall plants, it provides excellent cover for the Sedge Wren and other kinds of wildlife." (Hilty)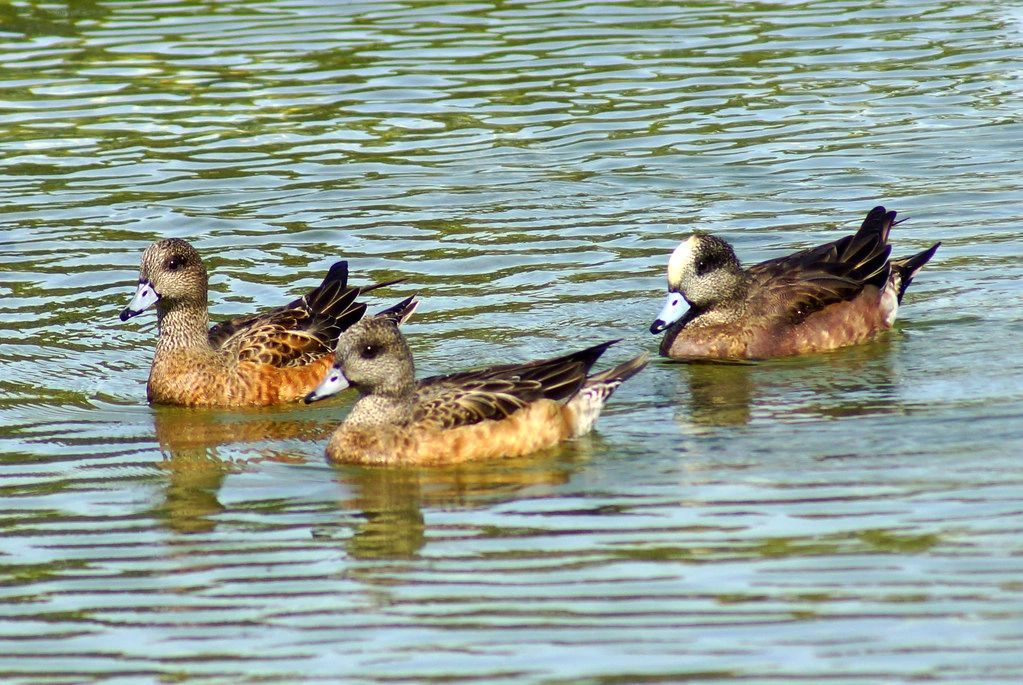 Anas americana (American Wigeon) feeds on the seeds of Carex stricta. (sergioniebla)
---
Covers
"Carex stricta COMMON TUSSOCK SEDGE" by Frank Mayfield, James Woodworth Prairie Preserve, 14 May 2007 CC BY-SA 2.0
By gmayfield10 - https://www.flickr.com/photos/gmayfield10/6405964869/, CC BY-SA 2.0, https://commons.wikimedia.org/w/index.php?curid=17655729
"Tussock Sedge (Carex stricta)" by wackybadger is licensed under CC BY-SA 2.0
"Carex stricta COMMON TUSSOCK SEDGE" by gmayfield10 is licensed under CC BY-SA 2.0


John Hilty botany, cultivation, and faunal associations: John Hilty, "Tussock Sedge", Illinois Wildflowers, the publisher, Copyright 2004-2019. Accessed 29 January 2022
Botanical diagram: "Carex stricta — Flora Batava — Volume v13" by Jan Kops- www.BioLib.de, Public Domain, https://commons.wikimedia.org/w/index.php?curid=18913638
Duck image: "Anas americana" by sergioniebla is licensed under CC BY-SA 2.0
---
Information and images compiled by Erik N.Vegeto

Disclaimer Notice:
Creative Commons will not be liable to You or any party on any legal theory for any damages whatsoever, including without limitation any general, special, incidental or consequential damages arising in connection to this license.