Aster novae-angliae (Symphyotrichum novae-angliae) - New England Aster
$9.99
"New England aster is a native perennial forb which grows from 2 ½ to 6.0 feet tall with hairy stems and leaves. The alternate leaves are up to 4 inches long and 1 inch wide, with broad, clasping bases and pointed tips. The individually stalked flower heads are in an open, rounded cluster at the tops of the main stem branches. The flower stalks and bracts at the base of each flower head are covered with glandtipped hairs. Each head is about 1 ½ inches wide, with 40 or more bright purple, petal-like ray flowers surrounding a central yellow disk. The ray flowers are sometimes pinkish purple or pale lavender in color. New England aster is the showiest of the genus, and stand out on roadside shoulders and ditches from August through late October" (Scott, USDA)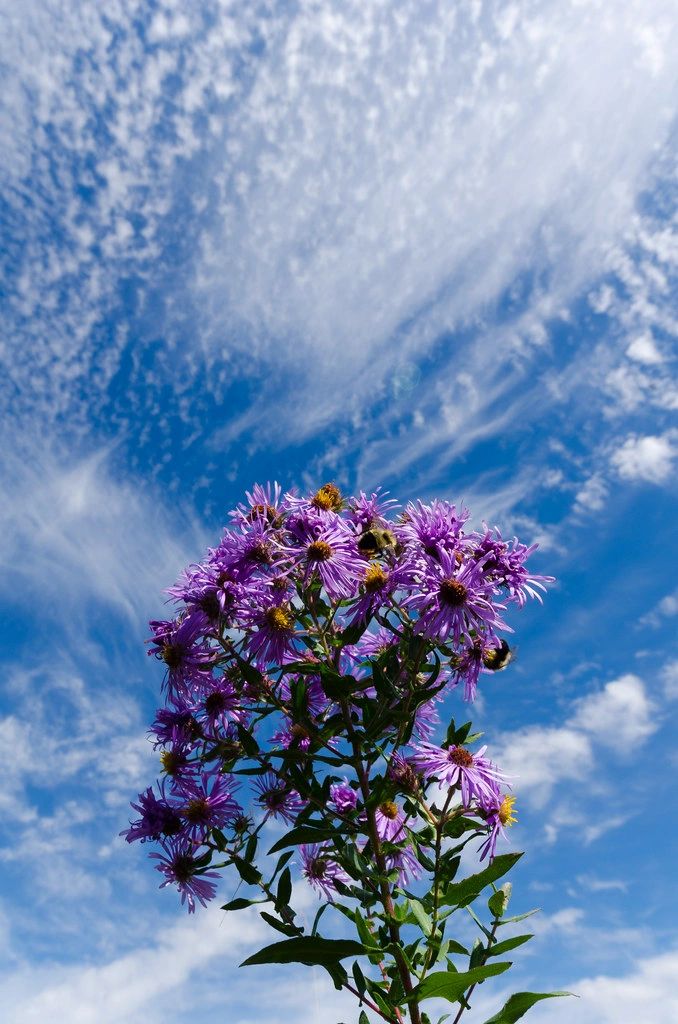 "This plant grows up to about 2 meters (6 feet) tall, but is usually 1-1.2 meters (3-4 feet) tall. By the time it is flowering, many of the lower leaves have fallen off, leaving a bare brown stem. Hundreds of heads on a single plant, but 50-100 is typical. Each head is between 19-38 millimeters (0.75-1.5 inches) across. Plants usually consist of 1-3 stems, but large clumps are occasionally encountered. The leaves are somewhat firm and softly hairy, 3-12 centimeters (approximately 1-5 inches) long x 6-20 millimeters (approximately 0.25-0.75 inches) wide." (Taylor, USDA)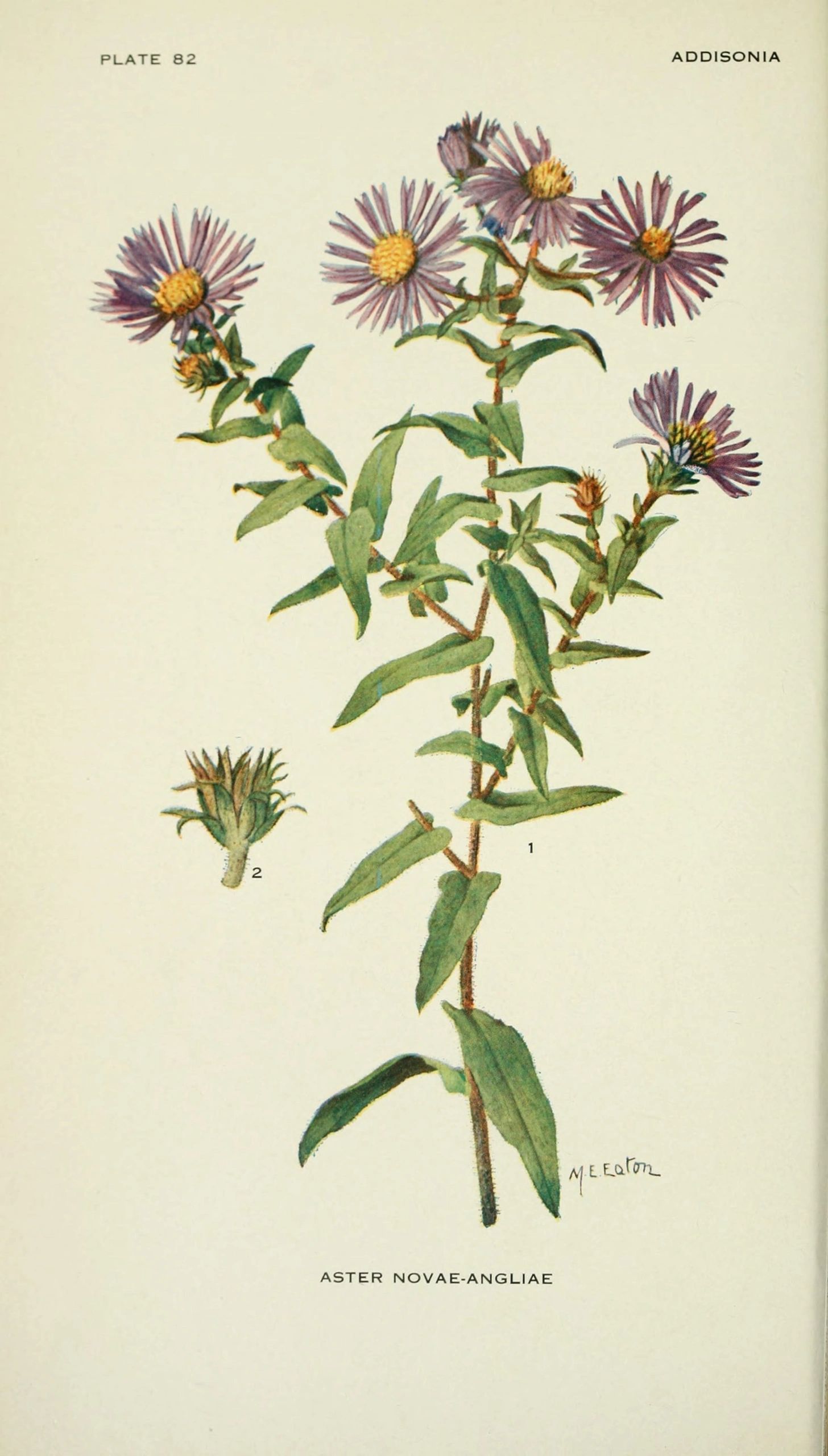 Botanical illustration of Aster novo-angliea (Addisonia)
---
Habitat:
"The species is an open lands plant, thriving in grasslands, old fields, savannas, and woodlands. It is frequently encountered on roadsides and in fencerows. It can also be found at the edge of forest. The species is known from most of the conterminous United States, except a few southern states and a few western states. It is present in much of Canada as well." (Taylor, USDA)
Cultivation:

"This aster is easily cultivated. Many native plant nurseries sell the plants. Numerous commercial nurseries sell cultivars of the species. It does well in native gardens and as accent plants in a formal garden. It can also be grown in a clump with species such as tall goldenrod to provide contrasting colors." (Taylor, USDA)
Ethnobotany:
"A decoction of the plant has been used in the treatment of weak skin (Moerman 1998). A poultice has been used in the treatment of pain, fevers, and diarrhea." (Haney, USDA)
Wildlife:
New England aster is known for attracting butterflies and moths to areas where it is found growing. This is a good bee plant providing nectar in the autumn. Most species in this genus seem to be immune to the predications of rabbits (Thomas 1990). (Haney, USDA)
Type: Herbaceous perennial
Family: Asteraceae
Native Range: Eastern North America
Zone: 4 to 8
Height: 3.00 to 6.00 feet
Spread: 2.00 to 3.00 feet
Bloom Time: August to September
Bloom Description: Deep pink-purple
Sun: Full sun
Water: Medium
Maintenance: Medium
Suggested Use: Naturalize, Rain Garden
Flower: Showy, Good Cut
Attracts: Butterflies
Tolerate: Clay Soil
---
---
Information and images compiled by Erik N.Vegeto

Disclaimer Notice:
Creative Commons will not be liable to You or any party on any legal theory for any damages whatsoever, including without limitation any general, special, incidental or consequential damages arising in connection to this license.