Asimina triloba
$29.99
"Pawpaw is a deciduous, native, understory tree in the Annonaceae family. Its name is probably a modification of the Spanish papaya. It is native to Canada and the eastern U.S.A. where it grows in deep shade to full sunlight in moist, nutrient-rich forests. It will tolerate occasional wet or moist conditions but prefers good drainage and acidic soil.
"In spring, 6-petaled, purplish-brown flowers mature. In late summer to early fall, pawpaw produces an edible, sweet-tasting, and custard like fruit measuring 2.5 to 6 inches. Harvesting the fruit can be difficult with competition from ambitious wildlife. It is recommended to wear gloves when harvesting as contact dermatitis has been known to occur.  The leaves turn a yellow color in the fall and provide interest.
"Pawpaw does well in naturalized, riparian, or woodland areas. It is a flowering tree that attracts butterflies, pollinators, small mammals, and songbirds, which makes pawpaw a good addition to a butterfly, pollinator, or rain garden. Flies and beetles are attracted to the flower of the tree and are beneficial pollinators that contribute to the foul odor of the flower." (North Carolina Extension)
---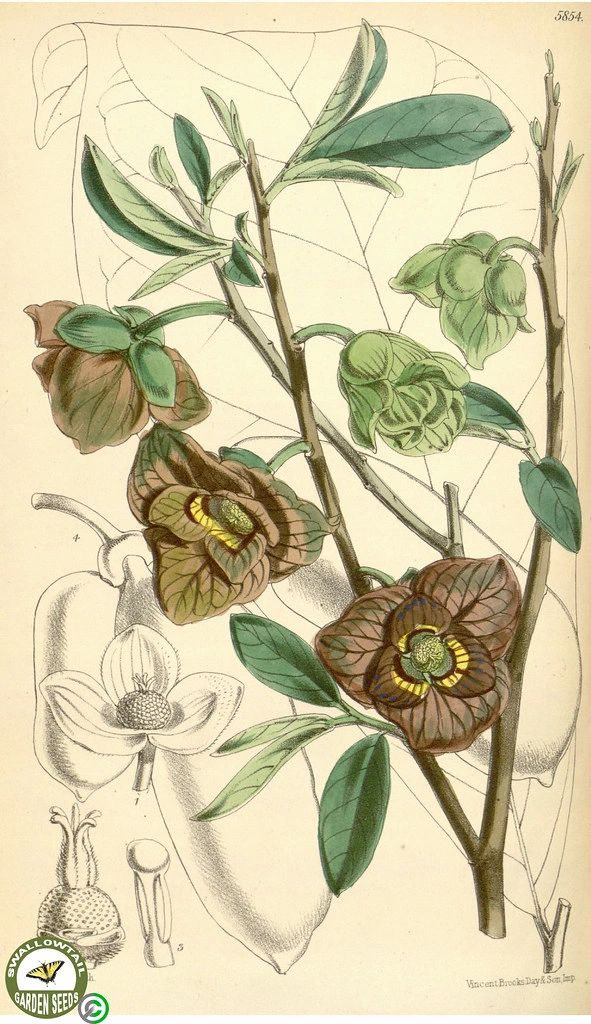 Botanical illustration (Dunal-Curtis)
---
Covers
"Asimina triloba (Linnaeus, 1753) - pawpaw tree (Dawes Arboretum, Licking County, Ohio, USA)" by James St. Johnis licensed under CC BY 2.0
"Pawpaw tree; fruit" By Scott Bauer, USDA - USDA ARS Image Number K7575-8, Public Domain


North Carolina Extension plant description:   Asimina Triloba (Common Pawpaw, Pawpaw) | North Carolina Extension Gardener Plant Toolbox. https://plants.ces.ncsu.edu/plants/asimina-triloba/. Accessed 10 Feb. 2022.
Botanical illustration:  "Pawpaw, paw paw. Asimina triloba (L.) Dunal- Curtis's botanical magazine s.3 v.26 (1870)" by Swallowtail Garden Seeds is licensed under CC BY 2.0
     Family: Annonaceae
Native Range: Southeastern United States
Zone: 5 to 9
Height: 15.00 to 30.00 feet
Spread: 15.00 to 30.00 feet
Bloom Time: April to May
Bloom Description: Purple
Sun: Full sun to part shade
Water: Medium to wet
Maintenance: Low
Suggested Use: Rain Garden
Flower: Fragrant, Insignificant
Leaf: Good Fall
Fruit: Showy, Edible
Tolerate: Wet Soil