Asclepias syriaca - Common Milkweed
$9.99
"Common milkweed is a deciduous, native, herbaceous perennial wildflower in the Apocynaceae (dogbane) family. It grows in average, well-drained soils in full sun but can tolerate poor or dry soils. It propagates easily by seed or root cuttings and will naturalize in the garden, taking up quite a bit of space. 
In summer, five-petaled flowers bloom with up to 100 flowers per cluster and one to three clusters per stem. Fragrant flowers in colors of green, pink, white, and purple or lavender will last from June through August. Plants can grow 3 to 5 feet tall.  Leaf arrangement is opposite and is oblong in shape with reddish veins.
Common milkweed not only provides nectar for butterflies, bees, and other pollinators but is a larval host plant for Monarch butterflies. 
Native Americans used the milkweed plant for fiber sources. Life jackets were made from the coma of the seeds during WWII. Today, coma is used for pillows and blankets.
Common milkweed can be used in naturalized areas, meadows, and butterfly, native, or pollinator gardens, but its wild and rangy form is not ideal for planting in borders." (North Carolina Extension) 
---
Asclepias Syriaca Botany by Dr. John Hilty 
Apocynaceae (dogbane) family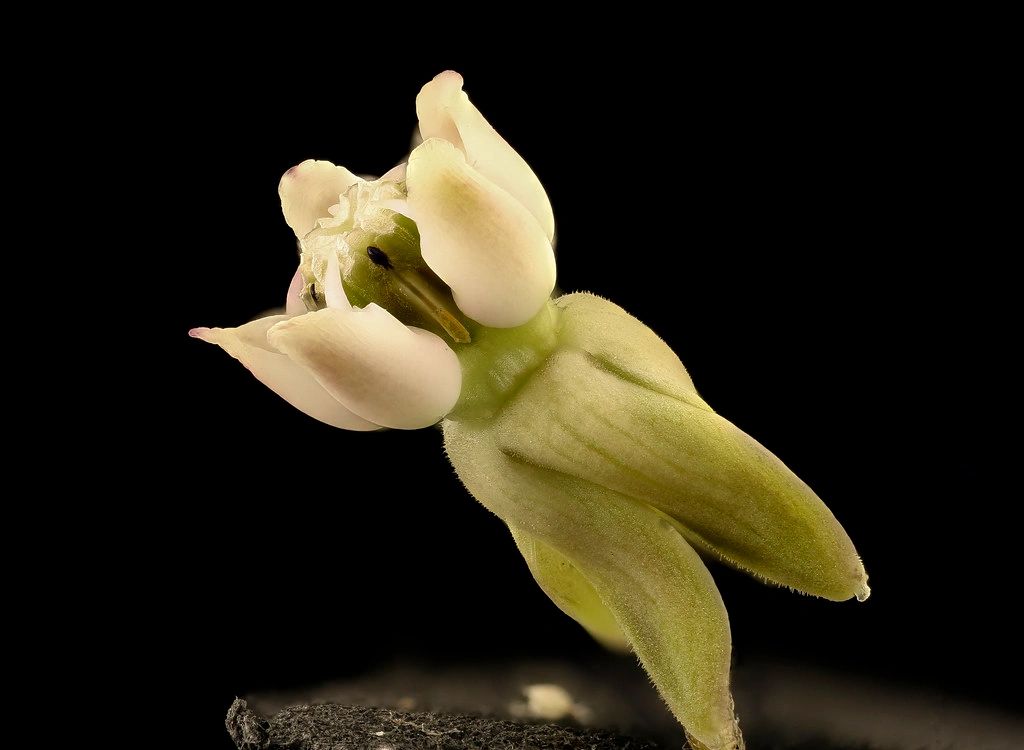 Common Milkweed floret. (Droege)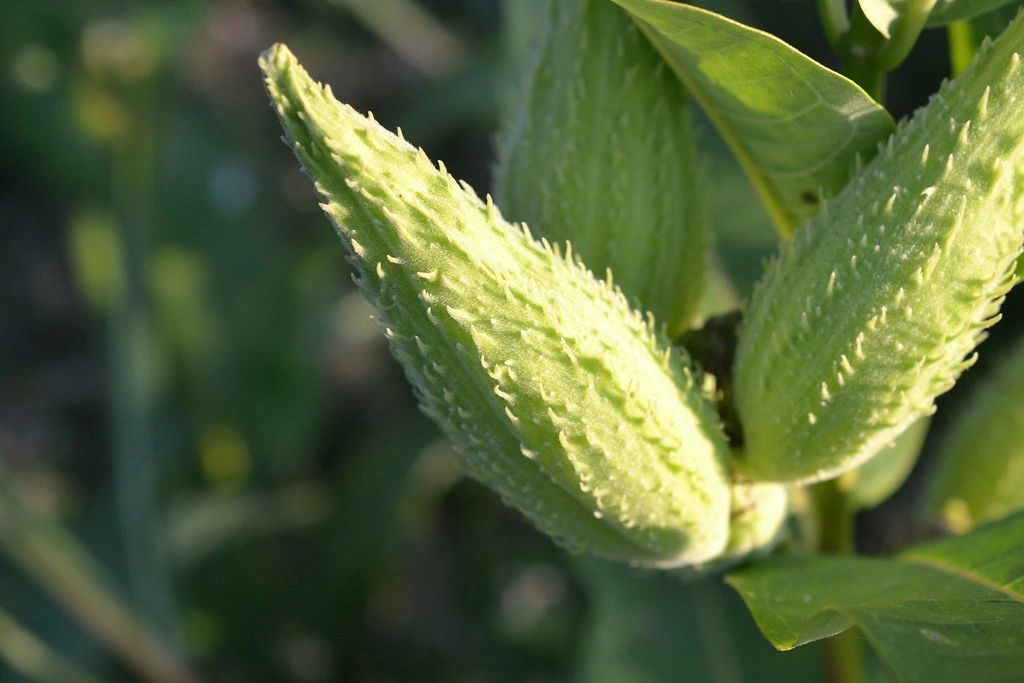 Common Milkweed fruit (acryptozoo).
---
Cultivation: 
"The preference is full sun, rich loamy soil, and mesic conditions, but this robust plant can tolerate a variety of situations, including partial sun and a high clay or sand content in the soil. Under ideal conditions, Common Milkweed can become 6' tall and spread aggressively, but it is more typically about 3-4' tall. This plant is very easy to grow once it becomes established." (Hilty)

Faunal Associations:
"The flowers are very popular with many kinds of insects, especially long-tongued bees, wasps, flies, skippers, and butterflies, which seek nectar. Other insect visitors include short-tongued bees, various milkweed plant bugs, and moths, including Sphinx moths. Among these, the larger butterflies, predatory wasps, and long-tongued bees are more likely to remove the pollinia from the flowers. Some of the smaller insects can have their legs entrapped by the flowers and die. Common Milkweed doesn't produce fertile seeds without cross-pollination. The caterpillars of Danaus plexippes (Monarch Butterfly) feed on the foliage, as do the caterpillars of a few moths, including Enchaetes egle (Milkweed Tiger Moth), Cycnia inopinatus (Unexpected Cycnia), and Cycnia tenera (Delicate Cycnia). Less common insects feeding on this plant include Neacoryphus bicrucis (Seed Bug sp.) and Gymnetron tetrum (Weevil sp.); see Insect Table for other insect feeders). Many of these insects are brightly colored – a warning to potential predators of the toxicity that they acquired from feeding on milkweed. Mammalian herbivores don't eat this plant because of the bitterness of the leaves and their toxic properties." (Hilty)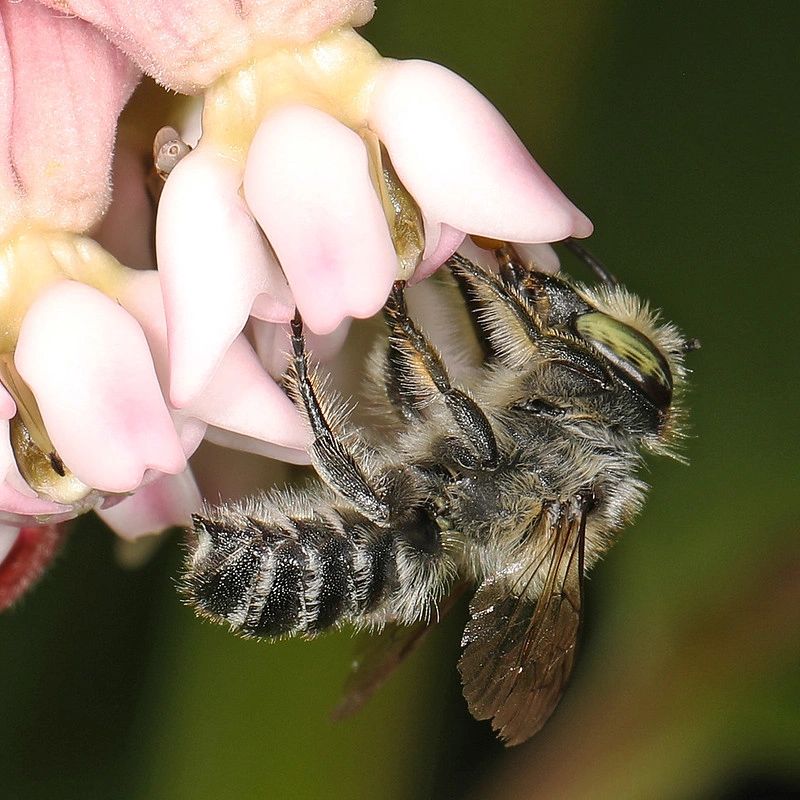 Leafcutter bee feeding on A. syricea nectar. (Gallagher)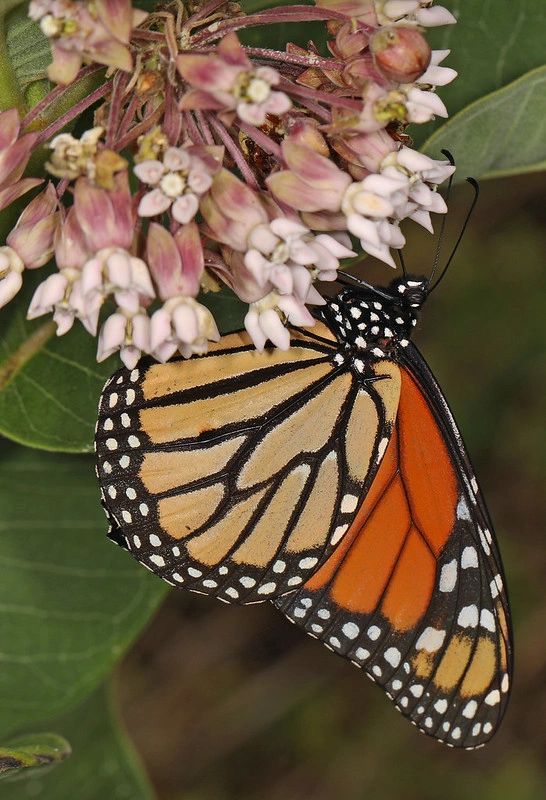 Female monarch butterfly on Common Milkweed (Gallagher).
---
Covers:
"Asclepias syriaca - Common Milkweed" By FritzFlohrReynolds is licensed under CC PDM 1.0
By Homer Edward Price - Common MilkweedUploaded by Amada44, CC BY 2.0, https://commons.wikimedia.org/w/index.php?curid=25214698
"Asclepias syriaca COMMON MILKWEED" By Frank Mayfield, 1 July 2008, James Woodworth Prairie Preserve, CC BY-SA 2.0 <https://flickr.com/photos/gmayfield10/3157430135/>


North Carolina Extension plant description: Asclepias Syriaca (Common Milkweed) | North Carolina Extension Gardener Plant Toolbox. https://plants.ces.ncsu.edu/plants/asclepias-syriaca/. Accessed 2 Feb. 2022.
John Hilty botany, cultivation, and faunal associations: John Hilty, "Common Milkweed", Illinois Wildflowers, the publisher, Copyright 2004-2019. Accessed 2 February 2022
Botany:
Faunal Associations:
"Leafcutter Bee - Megachile species on Common Milkweed" By Judy Gallagher, Own Work, 28 July 2021, Leesylvania State Park, Woodbridge, Virginia, CC BY 2.0 - Link
"Monarch - Danaus plexippus on Milkweed" By Judy Gallagher, Own Work, 17 July 2021, Meadowood SRMA, Mason Neck, Virginia, CC BY 2.0 - Link