Aronia melanocarpa
$29.99
"Aronia melanocarpa, known as black chokeberry, this deciduous shrub from the Rosaceae family spreads freely and suckers profusely. The top is often rounded and upright; it tends to become leggy with age.  The fruit is edible though very astringent and is produced from 5-6 flowered clusters that bloom in late spring. The leaves turn red in the fall and will drop for winter. It is native to Eastern North America. Can be used as a shrub in borders or in more open wooded gardens. This plant does well in full sun and partial shade and tolerates a wide variety of soil types including wet boggy soils.  
"The genus name, Aronia, is from the Greek word "aria." This is the Greek name for the species of Sorbus, whose fruits are similar to the Chokeberry. The species name, melanocarpa, is the combination of two words. Melano means black and carpa meaning fruit. This is derived from the ripe fruits of this species. The common name, Chokeberry, references its tart and bitter berries. They are edible but are so astringent they may cause choking." (North Carolina Extension)
---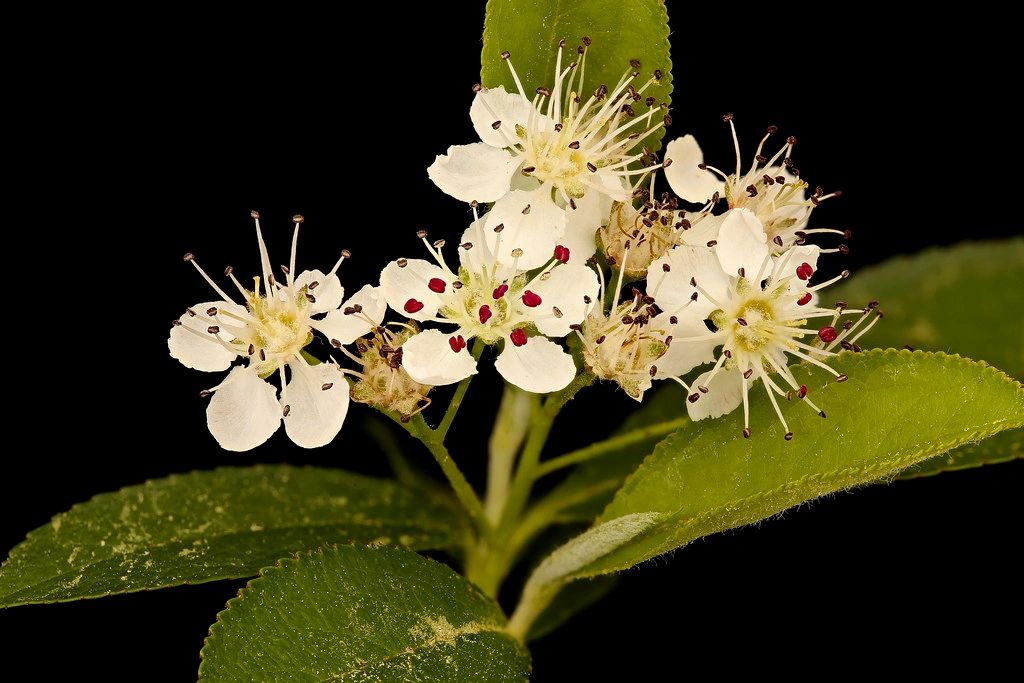 ---
Covers
"Aronia" By manfred.sause@volloeko.de - Own work, CC BY-SA 3.0, https://commons.wikimedia.org/w/index.php?curid=30640080

North Carolina Extension description: Aronia Melanocarpa (Black Berried Aronia, Black Chokeberry) | North Carolina Extension Gardener Plant Toolbox. https://plants.ces.ncsu.edu/plants/aronia-melanocarpa/. Accessed 14 Feb. 2022.
Flower close-up: "Aronia melanocarpa, Black Chokeberry, Howard County, Md., _2018-05-17-14.20" by Sam Droege is licensed under CC PDM 1.0



Common Name: chokeberry
Type: Deciduous shrub
Family: Rosaceae
Zone: 4 to 9
Height: 6.00 to 8.00 feet
Spread: 3.00 to 4.00 feet
Bloom Time: April
Bloom Description: White
Sun: Full sun to part shade
Water: Medium
Maintenance: Low
Suggested Use: Hedge, Naturalize, Rain Garden
Flower: Showy
Leaf: Good Fall
Fruit: Showy
Other: Winter Interest
Tolerate: Erosion, Clay Soil