Andropogon scoparium (Schizachyrium scoparium) - Little Bluestem
$9.99
"A native ornamental grass (Poaceae) with attractive blue-green foliage.  Purplish bronze seed heads and yellow-orange leaves make for great fall interest in the landscape.  It is attractive planted en masse and would make an excellent addition to a rain garden. It performs best in average, dry to medium moisture, well-drained soil in full sun.  However, it does tolerate a wide range of soil conditions including infertility and clay.  It has drought resistance once established. It is well-adapted to southern climates as it tolerates high heat and humidity. It is found naturally in a wide range of moist to dry habitats. Cut back to the ground in early spring to promote new attractive growth. There are many cultivars available, which means it can be difficult to find the straight species in trade.
"Little Bluestem is a perennial, warm-season grass that may grow to 5 feet. The leaves and stems frequently have a bluish cast in summer, while the fall color is a very warm copper that does not fade throughout winter. " (North Carolina Extension)
---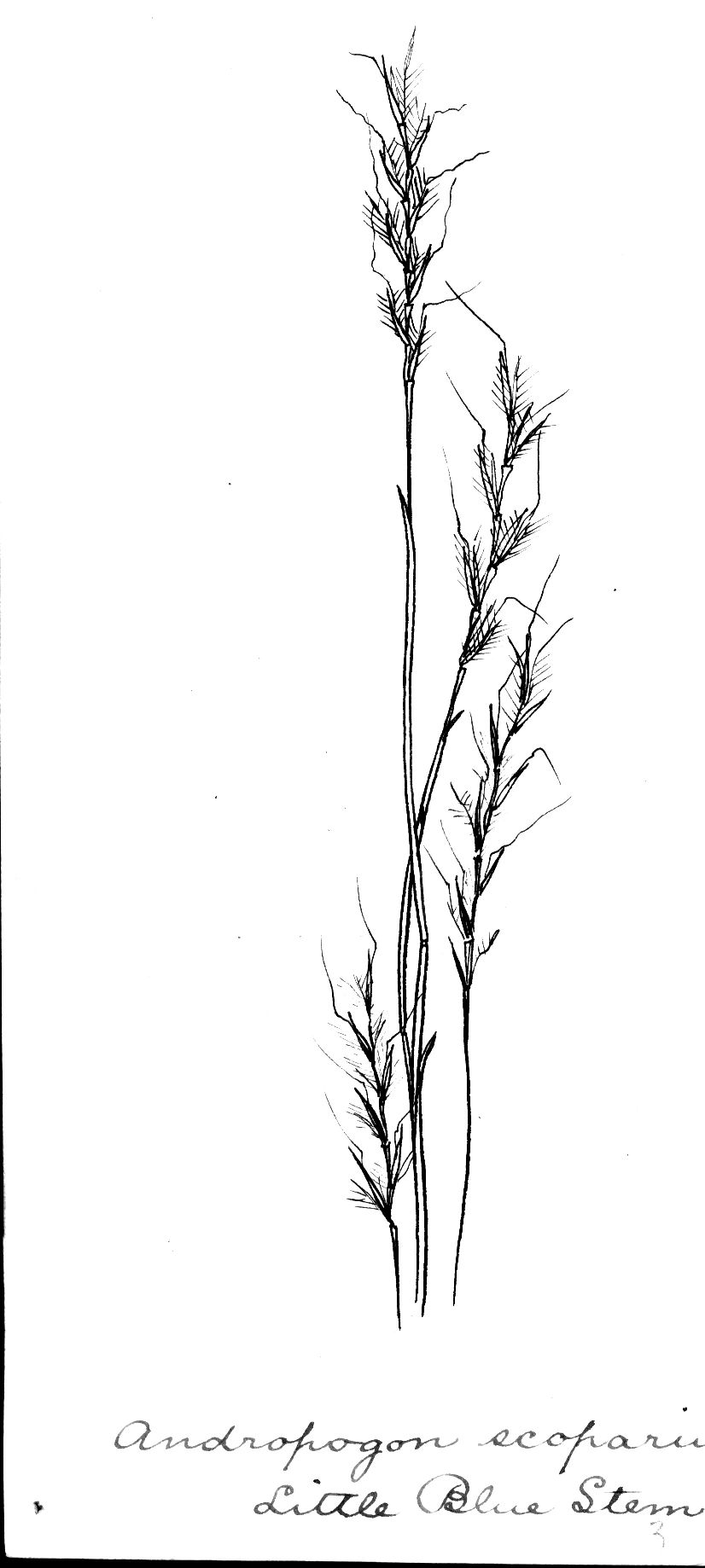 Botanical illustration (Hitchcock-Chase Collection)
Cultivation: 
"The preference is full sun and mesic to dry conditions. Different kinds of soil are tolerated, including those that contain clay-loam, gravel, or sand. Less fertile soil is preferred because of the reduced competition from taller vegetation. Because of its C4 metabolism, Little Bluestem develops primarily during the warm weather of summer and early fall, and it has excellent drought resistance."
Faunal Associations: 
"The caterpillars of several skippers feed on the foliage of Little Bluestem, including Atrytonopsis hianna (Dusted Skipper), Hesperia metea (Cobweb Skipper), Hesperia ottoe (Ottoe Skipper), Hesperia sassacus (Indian Skipper), Nastra lherminier (Swarthy Skipper), and Polites origenes (Crossline Skipper); see Bouman et al. (2006). A skipper looks like a cross between a small moth and a small butterfly. Skippers are common in prairies and other open areas where Little Bluestem and other grasses occur. Many grasshoppers also feed on the foliage (see Grasshopper Table); grasshoppers are common in the same habitats as skippers and they are an important source of food for many insectivorous birds. Other insects that feed on Little Bluestem include Diapheromera velii (Prairie Walkingstick), the leaf-mining beetle Anisostena nigrita, the thrips Illinothrips rossi, Prosapia ignipectus (Black Spittlebug), the Delphacid planthopper Delphacodes parvula, and such leafhoppers as Flexamia albida, Flexamia clayi, Flexamia delongi, Flexamia graminea, Flexamia prairiana, Athysanella incongrua, and Laevicephalus unicoloratus (Arment, 2006; Clark et al., 2004; Hamilton, 1982; Stannard, 1968; Panzer et al., 2006; Haarstad, 2002; FLOW, 2014; Hicks, 2014). The Field Sparrow, Tree Sparrow, Slate-Colored Junco, and other small songbirds eat the seeds, particularly during the winter. The foliage of Little Bluestem is quite palatable to bison, cattle, and other hoofed mammalian herbivores." (Hilty)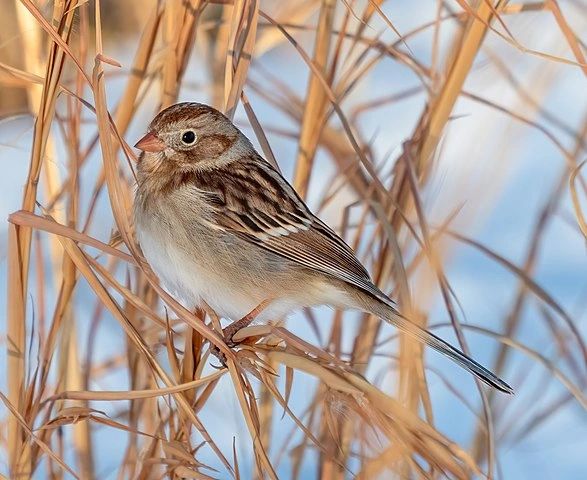 The Field Sparrow perched on Little Bluestem. (Rhododendrites)
---
Type: Ornamental grass
Family: Poaceae
Native Range: Eastern North America
Zone: 3 to 9
Height: 2.00 to 4.00 feet
Spread: 1.50 to 2.00 feet
Bloom Time: August to February
Bloom Description: Purplish bronze
Sun: Full sun
Water: Dry to medium
Maintenance: Low
Suggested Use: Rain Garden
Flower: Insignificant
Leaf: Good Fall
Other: Winter Interest
Tolerate: Deer, Drought, Erosion, Dry Soil, Shallow-Rocky Soil, Black Walnut, Air Pollution
---
Covers
"A picture of Schizachyrium scoparium." By Chhe (talk) - Own work (Original text: I (Chhe (talk)) created this work entirely by myself.), Public Domain
 "Schizachyrium scoparium" By United States EPA, Public Domain
"This is a close-up photo of Schizachyrium scoparium (little bluestem grass)" By Alexschott - Own work, CC BY-SA 3.0, 
"Andropogon scoparium and Andropogon gerardii" by Matt Lavin is licensed under CC BY-SA 2.0

Botanical illustration: "Andropogon scoparius Michx., Little bluestem", Hitchcock-Chase Collection of Grass Drawings, on indefinite loan from the Smithsonian Institution, courtesy of Hunt Institute for Botanical Documentation, Carnegie Mellon University, Pittsburgh, Pa.

John Hilty botany, cultivation, and faunal associations: 
John Hilty, "
Little Bluestem
", Illinois Wildflowers, the publisher, Copyright 2004-2019. Accessed 29 January 2022
Author(s): Erik N. Vegeto
Disclaimer Notice:
Creative Commons will not be liable to You or any party on any legal theory for any damages whatsoever, including without limitation any general, special, incidental or consequential damages arising in connection to this license.