Andropogon gerardii - Big Bluestem
$19.99
"Big bluestem is a native, perennial warm-season bunchgrass. Scaly rhizomes are 1 to 2 inches below the soil surface, with the main roots extending to 10 feet. It can grow 6-8 feet tall, generally shorter in the northern range, and taller in the southern. Leaf blades range from 0.5-2 feet long. Seed heads consist of 2-6 (usually 3) blooming racemes resembling a turkey foot. Flowering can range from July-October. The fluffy seeds are oblong, less than 0.25 inches long. It does well in full sun or partial shade. Big bluestem grows best in moist, well-drained sandy and clay loam soils. It does well in low fertility. It is a major component of the tall grass vegetation that dominated the prairies of the central and eastern United States. It is a common grass in the understory of longleaf pine communities of the southeastern U.S." (Owsley, USDA)

Native range: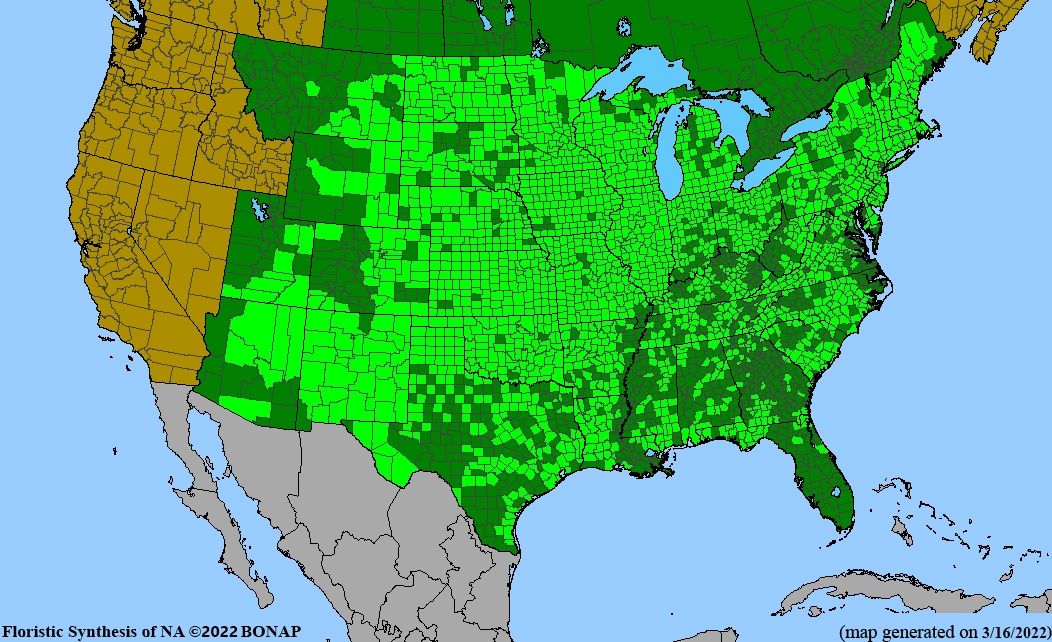 ---
Botany:
"The flowerhead in bloom" (USFWS)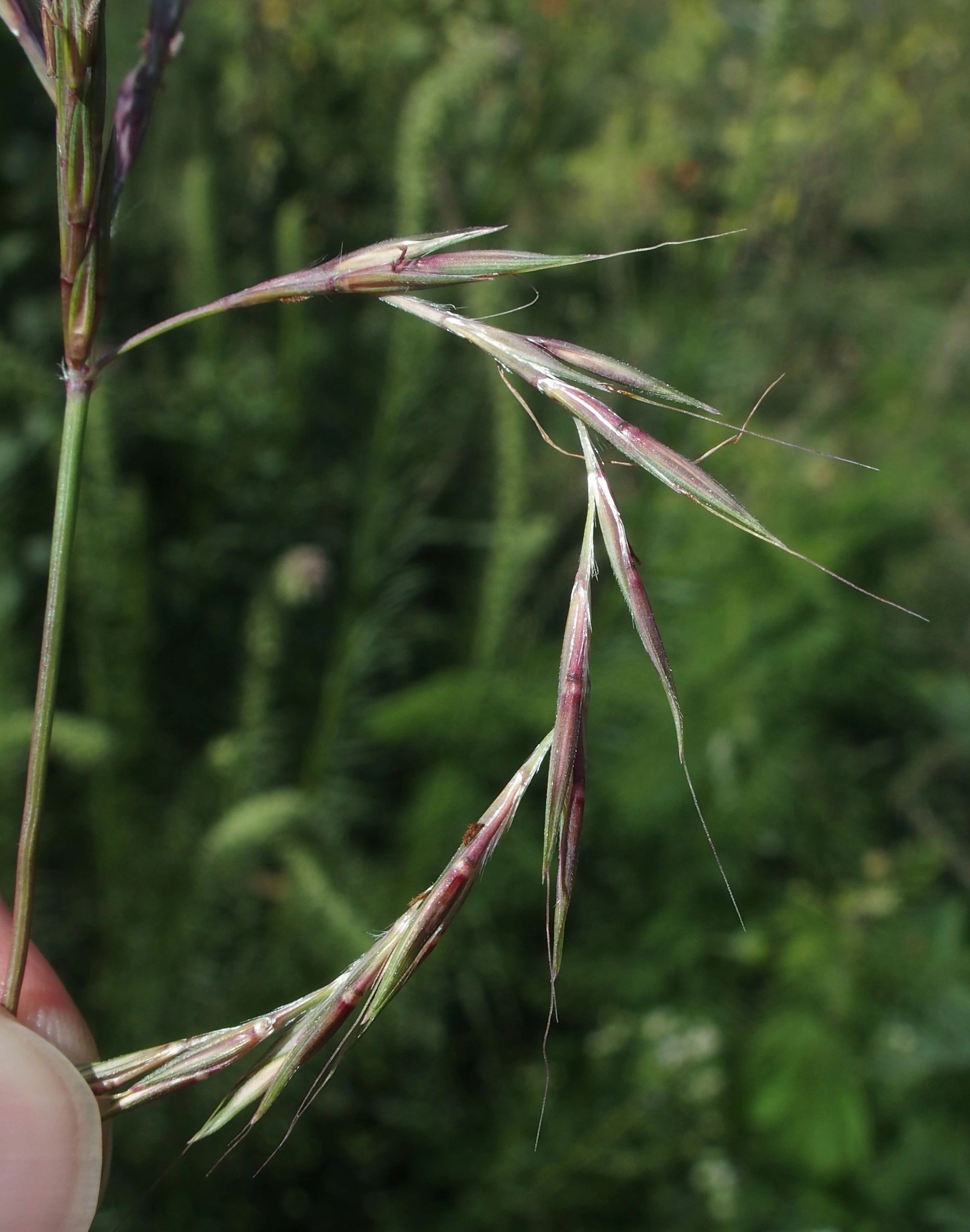 "The spike-like raceme bent to show the pairs of spikelets" (Matt Lavin)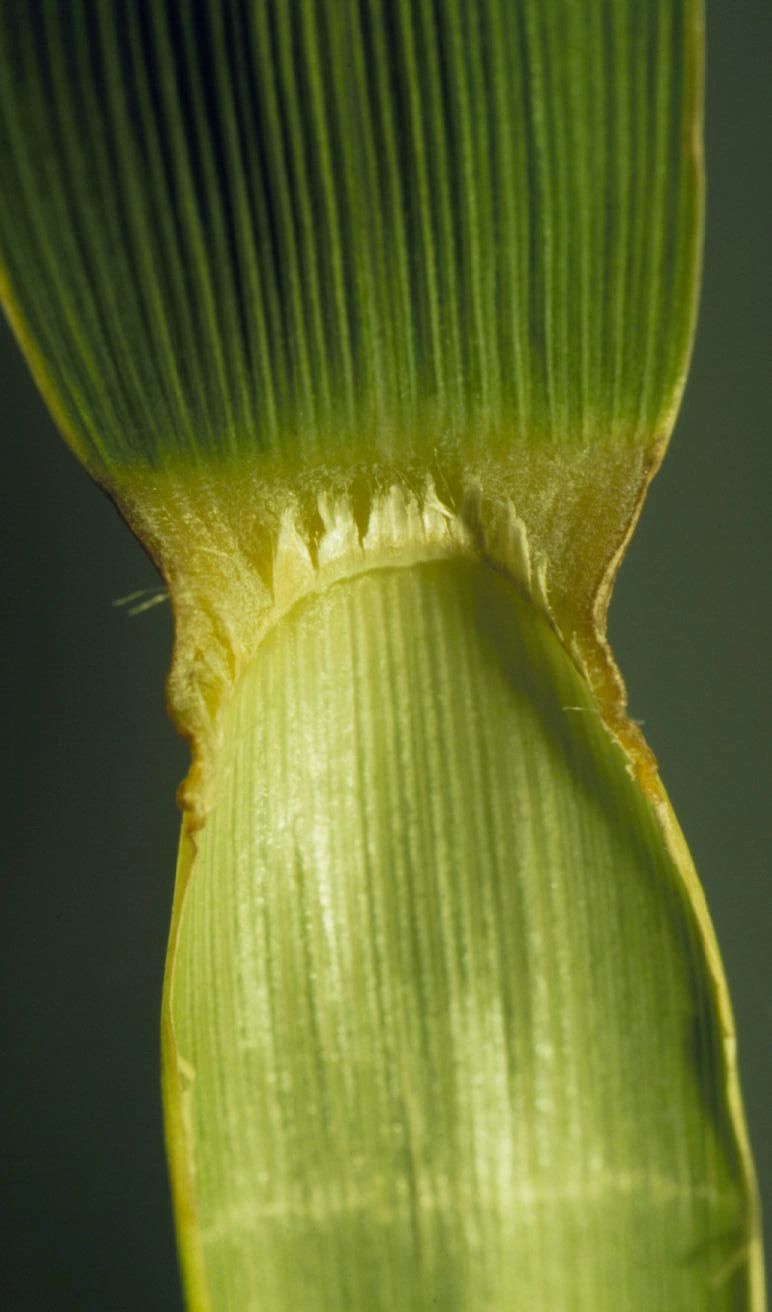 ---
Cultivation: 
"The preference is full sun, moist to slightly dry conditions, and a fertile loam or clay-loam. Other kinds of soil are tolerated, including those containing sand and gravel. This is an easy grass to grow, although it can be aggressive because of its large size. During the winter, the tall naked culms have a tendency to topple over." (Hilty)

---
Uses:
"Erosion control: Critical area seeding, roadside cover, and areas subject to wind erosion. Livestock: High quality forage, with crude protein content up to 16-18% during the growing season, dropping below 6% in late summer. It is grown for pasture and hay production, singly or in mixes.
"Ethnobotany: The roots used as a diuretic and to alleviate stomach pains, leaf blade extracts used as a wash for fevers or an analgesic. Landscaping: Used in wildflower meadows and as a border or accent in native gardens.
"Pollinators: Constitutes part of the native plant community in support of pollinators. Restoration: Used in restoration of native prairie areas and longleaf pine understory.
"Wildlife: Browsed by white-tailed deer and American bison. In native mixes it provides nest, brood and escape cover for bobwhite quail. Songbirds, prairie chicken, and small mammals consume big bluestem seed." (Owsley, USDA)
---
Faunal Associations: 
""The seeds are eaten sparingly by granivorous songbirds, including the Field Sparrow, Tree Sparrow, and Chipping Sparrow. The foliage is readily eaten by hoofed mammalian herbivores, including bison, cattle, and other livestock. The Meadow Vole and Prairie Vole eat the foliage as well." (Hilty)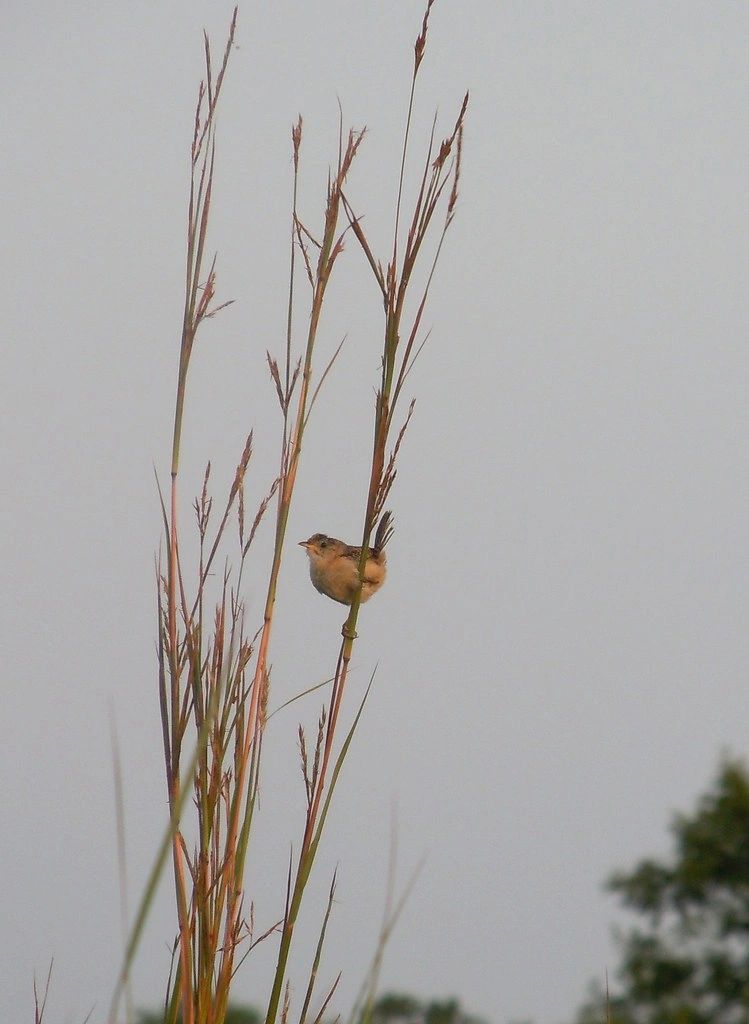 A sedge wren on big bluestem.  (Bolser, USFWS)
Type: Ornamental grass
Family: Poaceae
Native Range: Canada to Mexico
Zone: 4 to 9
Height: 4.00 to 6.00 feet
Spread: 2.00 to 3.00 feet
Bloom Time: September to February
Bloom Description: Purplish-red
Sun: Full sun
Water: Dry to medium
Maintenance: Low
Suggested Use: Naturalize
Flower: Insignificant, Good Dried
Leaf: Good Fall
Other: Winter Interest
Tolerate: Deer, Drought, Erosion, Dry Soil, Black Walnut, Air Pollution
---
Covers
 "Big Bluestem" By T.Voekler - Own work, CC BY-SA 3.0, https://commons.wikimedia.org/w/index.php?curid=20186755
"Andropogon gerardii" By Matt Lavin from Bozeman, Montana, USA - Andropogon gerardii, CC BY-SA 2.0
Botany
Cultivation
John Hilty, Big Bluestem, Illinois Wildflowers, the publisher, Copyright 2004-2019. Accessed 31 January 2022
Uses
Owsley, Mike, 2011. Plant fact sheet for Big Bluestem (Andropogon gerardii Vitman). USDA-Natural Resources Conservation Service, Jimmy Carter PMC Americus, Georgia 31719.
Faunal Associations